Men's Rugby extends streak to four, remains unbeaten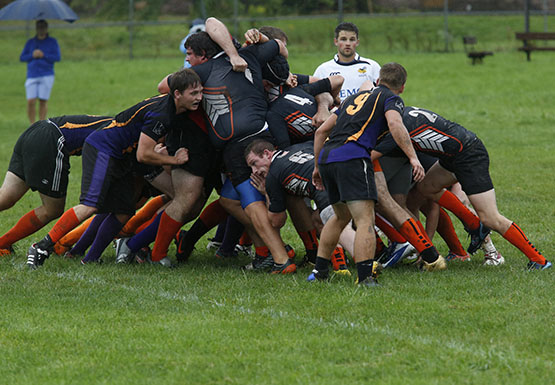 The Buffalo State men's club rugby team defeated Ithaca, 12-3, in a hard-fought victory Saturday to remain undefeated.
All 12 points came from penalty kicks off the leg of Collin DeGuehery, including one kick from 45 yards out.
Buffalo State was able to force Ithaca to take penalties by playing stout defense.
"Our big hitters forced a lot of handling errors from Ithaca, especially in their own half," senior Sam Morrealle said.
Defensively, Buffalo State has dominated its past three opponents, giving up just six points total. The team is having a lot of success on both sides of the ball this season and at 4-0, they're the only remaining unbeaten team in their division.
Although the offense did not score any tries against Ithaca, it did play well enough to force the fouls that resulted in all four penalty kicks. Still, 12 points was a season-low for Buffalo State.
"The score was much lower because Ithaca had a very well-organized team," senior captain Christian Feickert said.
Senior Jeremy Galante felt strict refereeing also played a large part in the low score.
"The score was lower than in previous weeks because the teams were more evenly matched, but also because the ref was calling a lot of penalties which didn't allow either team to gain any offensive momentum," Galante said.
Coming into each game with a specific game plan and executing it has led to Buffalo State's success this season.
"Our game plan was similar to last week," Feickert said. "We used chip kicks to our advantage to pin Ithaca deep in their own end, then we played hard on defense to keep Ithaca from achieving the gain line when they were on offense. It was one of the hardest hitting games I've ever played in and we had to fight for every inch".
Next week, Buffalo State takes on Hamilton at home, a 3-2 team that just upset No. 11 Colgate. Buffalo State has not played Hamilton in five years.
"We don't know a whole lot about them, but they did just beat Colgate this past Saturday who was thought to be one of the best Division II rugby teams in the nation," Feickert said. "We have never played Hamilton before so I'm really curious to see how we match up with these guys. It should make for an exciting game."
Email: [email protected]
Leave a Comment