Late touchdown crushes Bengals' comeback bid in Empire 8 opener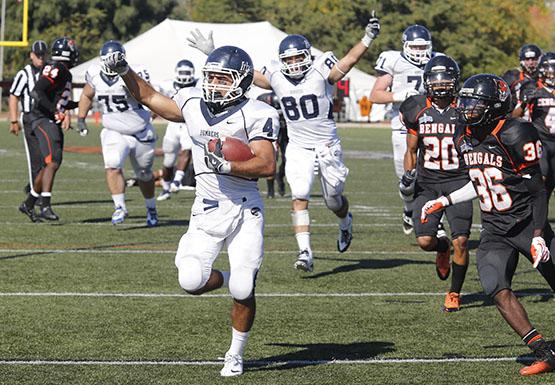 The Buffalo State football team wasn't able to overcome a slow start in its Empire 8 opener, a 24-20 loss against the Ithaca Bombers at Coyer Field Saturday.
Missed opportunities, namely dropped passes and tackles, are what ultimately did in the Bengals after a back-and-forth final quarter that left Ithaca with the decisive late touchdown.
"I'm disappointed because we had plays but too many dropped passes, things of that nature that stopped us in our drives," head coach Jerry Boyes said. "This is a game against any team, whether it be a great team or not such a great team, that if you don't execute plays and you leave strokes out on the field, you're not going to win the ball game."
The Bengals (2-2, 0-1 Empire 8) gave the homecoming crowd reason to cheer late in the fourth quarter. Ithaca took a 17-7 lead on Josh Oliver's 63-yard punt return with 8:40 left in the game, but Buffalo State scored two touchdowns in a span of 2:25 to come back from a 10-point deficit and claim a 20-17 advantage.
As quarterback Casey Kacz was being tackled, he found Sherman Nelson in the front of the end zone for a 14-yard score with 3:30 remaining to cut Ithaca's lead to 17-14.
That was followed by the defense forcing a three and out, giving the Bengals the ball back with just 1:52 to go. They went 62 yards on seven plays in 47 seconds to take their first lead on an 18-yard scamper up the middle by running back Rich Pete. He ran for 91 yards and had an additional 52 yards receiving.
But the Bombers (3-0, 1-0) got the ball back with one minute to go and came right back and scored the winning touchdown with :22 left on the clock. Vito Bofolli capped the 72-yard drive off. He caught a short pass over the middle and defensive back Justin Medley missed the tackle, allowing Bofolli to score the final points on a 30-yard pitch-and-catch from quarterback Phil Neumann.
"I have to give Ithaca some credit but that last play was all just missed tackles," Boyes said. "It wasn't like the guy was wide open. He caught the ball, was immediately hit, but we didn't make the tackle."
For most of the afternoon, it was a defensive struggle, which is the antithesis of the Bengals' three previous game prior to Saturday. The defense had allowed at least 28 points in each game and the offense scored more than 40 in two of them. Saturday, Ithaca was held to just 13 first downs and 261 yards of total offense, while Buffalo State posted 362 yards, 158 of them coming in the final quarter.
The comeback was made possible because of several defensive stops, including a trio of three-and-outs in the fourth quarter. That kind of effort motivated the offense to get going.
"We've been waiting for our defense to step up, we knew what they were capable of," wide receiver Ryan Carney said. "So seeing them perform well really put the pressure on us and we were definitely feeding off them. Once we started being aggressive in the fourth quarter it showed."
Kacz, still playing with an injured throwing arm according to Boyes, finished 24 of 44 for 262 yards with two touchdowns and an interception. Carney had a team-high seven catches for 67 yards and Mike Doherty hauled in six passes for 79 yards.
The Bengals fell behind 10-0 with 6:02 left in the second quarter on a 41-yard field goal by Max Rottenecker. But Kacz engineered an 84-yard drive to and answered with a 3-yard touchdown toss to Isaiah Clarke in the back corner of the end zone 26 seconds before half, setting up the second half drama.
Buffalo State will next go on the road to play Alfred on Saturday in another conference matchup.
Email: [email protected]
Twitter: @AA_Garland
Leave a Comment