Raucous crowd on hand to witness wild win for volleyball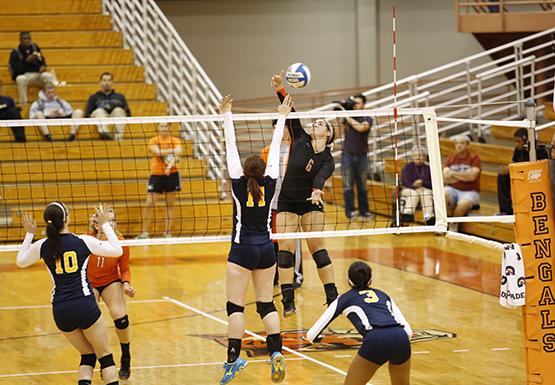 After a 10-day stretch without any games, the Buffalo State volleyball team was looking forward to Tuesday's home contest against cross-town rival Medaille. The atmosphere was electric from the start, spurring the Bengals to a dramatic five-set win, 25-15, 20-25, 25-15, 23-25 and 15-7.
"We were definitely really excited to get back on the court, especially to be back on our home court," senior outside hitter Sarah Horvath said. "It was a Bengals Supporting Bengals game so we knew we were going to have a lot of support here. We were definitely psyched up."
A raucous crowd stomped its feet on the bleachers all game long and waved broomsticks to distract Medaille's servers. One fan even brought a large American flag, running around in between the stands and the court and waving the flag during timeouts and in between sets.
"(The crowd) has been growing for the past few years, but this is the best crowd we've had so far," head coach Maria DePeters said. "We were really excited about it. It was fantastic."
The Bengals were all smiles after dominating most of the first set. The second set proved tougher for Buffalo State, however. Down, 10-3, in the second, DePeters called a timeout to speak to her team.
"I just said, 'Is this how we were going to play?' Consistency has been a big issue with us all year," DePeters said. "(I asked) them, are we playing the best level that we can be playing? So I think we were reinforced mentally and we got our focus back there for a little bit."
Although the Bengals fought back to tie it at 15, Medaille ended up winning the set. Then, after winning a back-and-fourth third set, the Bengals failed to put the match away in the fourth.
The Mavericks were just 3-8 heading into Tuesday's game and had won only three of their last 10 matches against Buffalo State, but gave the Bengals all they could handle on Tuesday. Heading into the fifth and final set, the Bengals' players huddled up together on the court.
"(We said) just to believe in each other," Horvath said. "(We knew) that we were a better team than that, and we just had to execute."
In the fifth set, Buffalo State jumped out to a 12-7 lead before Medaille called a timeout. A poor serve from the Mavericks following the stoppage brought the Bengals to within two points of a win. A block from Horvath and a kill from Kelsey Bashore sealed it for the Bengals.
Buffalo State (7-6) heads to Brockport this weekend for SUNYAC play. The Bengals will take on Geneseo, Fredonia and Plattsburgh in their opening conference games.
Leif Reigstad can be reached by email at [email protected] or on Twitter @LeifReigstad.
Leave a Comment