Men's rugby improves to 2-0 with blowout win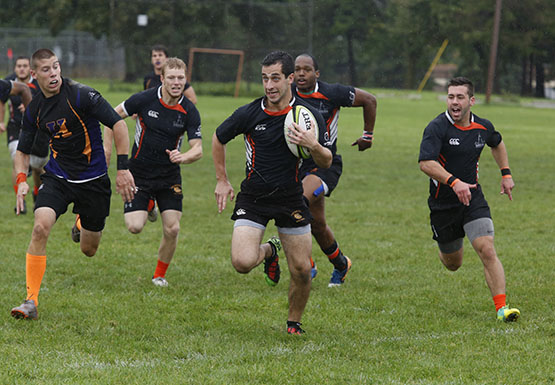 The men's rugby team is off to a 2-0 start after a 59-0 win over Hobart on a rainy Saturday afternoon.
Senior center Edem Wade and senior wing Ethan Walsh both had big games against Hobart. Wade scored three tries while Walsh scored two. Fifth-year players Clayton Hoyt and Mike Agro also made great efforts, as did third-year player Collin DeGuehery.
Aggressive defensive play, led by senior flanker Rob Vinal, was key in the shutout. Playing physical and gritty rugby on the inside sparked many big plays. Overloading on the wings, solid blocking, and overall strong physical play was the key to scoring most of the tries.
Senior captain Jeremy Galante said Saturday's strong performance was a total team effort.
"Everybody came out and played hard," he said. "The chemistry on our team is really starting to develop and the younger players on our team are stepping up in a big way."
Galante plays a variety of positions, but primary played second-row lock on Saturday. Senior hooker Sam Morreale said the game plan against Hobart was what secured the win.
"We forced them to commit multiple defenders to a tackle, then played the ball wide and overloaded on the wings," Morreale said.
Morreale, like Galante, was also impressed by the play of some of the younger players.
"In the second half we were able to get a lot of younger guys some experience and they really stepped up," Morreale said.
Next week, the team travels to take on Fredonia (1-2), who lost to Niagara University this past Saturday.
Fredonia is typically one of the better teams in the division, and Buffalo State has a respectful rivalry with the Blue Devils.
Senior captain Christian Feickert said that Buffalo State needs to be more aggressive against Fredonia in order to secure a victory.
"They're a big, tough team. We've got to play physical if we want to beat them," he said.
Buffalo State is 1-2 against Fredonia in the past three seasons, with the most recent loss coming last fall.
Dan Almasi can be reached by email at [email protected]