Used bookstore has interesting stories to tell on West Side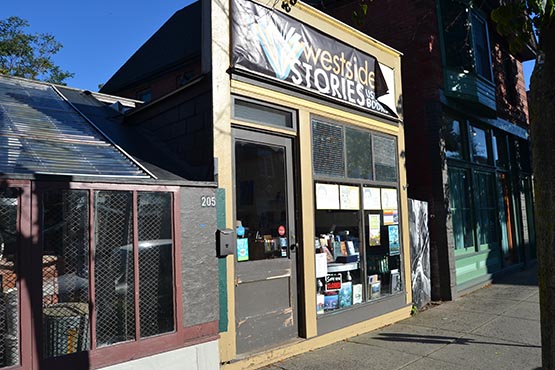 On the bustling corner of Grant Street and Lafayette Avenue, a little used bookstore is doing big things in the way of giving back to the community.
Westside Stories, located at 205 Grant St., is nestled in the heart of an area of Buffalo known for its rich diversity. The neighborhood is home to many refugees and immigrants, most coming from the Middle East, Southeast Asia, Somalia and Sudan.
Owners Joe and Jeanenne Petri fell in love with the Grant Street neighborhood after a single visit to Sweet_ness 7 Cafe, just across the street.
With the desire to be closer to the area, the Petris first purchased a neighborhood house and then opened the doors to Westside Stories. It has been two years and they have watched their business steadily grow, with help from their new neighbors.
"The collaborative nature of the business on this block is incredible," Jeneanne Petri said.
Once a downtrodden neighborhood, Grant Street is slowly coming back to life thanks to the influx of new residents. The formerly vacant storefronts are now nearly filled with successful and up-and-coming local businesses.
Neighboring storefronts include Dour's Boutique, Buffalo State Community Academic Center, Global Villages, IT Garden, Black Dots Record Boutique, Argybargy Screen printing services, Freddy J's BBQ stand, and of course, Sweet_ness 7 Cafe. Guercio's and G&L Flooring are Grant Street staples and have remained in business for generations.
Westside Stories provides the literary part of the equation, selling used books at competitive prices. Many titles are under ten dollars, keeping them affordable.
"We believe that it's important to make books accessible to the neighborhood," Joe Petri said.
As a result, the bookstore has retained plenty of customers, including John Shotwell, a Grant Street resident.
"Westside Stories has an excellent selection, great prices, and it is well organized for a used bookstore," Shotwell said.
The Petris' contributions to the community extend past selling books. The couple found that they had an overabundance of children's books, and started offering them to families in the community for free in an attempt to offset the lack of a library on Grant Street.
Jeanenne Petri explained that they often receive boxes of books from generous patrons. As a parent and community-minded citizen, she firmly believes in the importance of reading in a child's development and believes it is a healthy activity to pass the time.
Another common practice at Westside Stories is accepting dictionary donations.
The Petris noticed a spike in the number of immigrants coming into the store for dictionaries in order to improve their English language skills. They then asked customers to donate dictionaries, and many of them contributed to the cause.
Dictionaries are now provided to non-English speaking residents free of charge.
"Our mission is to make the Westside an even more livable place that people are rooted in, and are happy to live in.," said Petri.
Westside Stories is open for business Monday, Wednesday and Friday from 11a.m. to 6 p.m., Saturday from 10 a.m. to 6 p.m., and Sunday from 10 a.m. to 3 p.m.
Kaitlin Russo can be reached by e-mail at [email protected]
Leave a Comment