Throwback Thursday: Buff State's college camp Whispering Pines enjoyed by generations
Whispering Pines has been a nature retreat for student organizations for nearly 70 years.
Since the early 1950s, SUNY Buffalo State students have been venturing into the lush forests of picturesque Franklinville, NY to spend a weekend of group bonding in solitude at Whispering Pines Camp. The camp sprawls 615 acres of "forests, hills, meadows, streams and ponds," and has two expansive wood lodges that sleep a total of 100 guests.
When the college camp was built in 1953, it was the place to go for organizations on Buffalo State's urban campus. The camp is owned by USG and funded through the mandatory student activity fee. David Meinzer, USG Press Services Director, wrote in a brief history of the camp that throughout the 50s and 60s groups were often turned away because the camp was booked every weekend.
From 1984 to 1997, Whispering Pines held "Rural Madness" a day-long concert held near the end of the spring semester where students were able to "visit the camp, hike in the woods, enjoy a chicken barbecue, and listen to the various rock, folk, and reggae bands that played on the outdoor stage over the years," Meinzer wrote.
"
Upon first glance, it looks like the front of a postcard sold at a New York Thruway rest stop's gift shop.
Leafing through The Record archives, a December issue from 1970 describes the camp as a "unique attraction."
The writer, Joe Barrile, claims it's the only student-owned camp in the SUNY system or at least the only one with these facilities and operation (SUNY Oneonta also owns a college camp).
Barrile writes of fishing in the ponds, which "could get you a good bass or nothing at all," and tobogganing down the camp's ski hill, which was "great, but the drifts can make it actually a riot."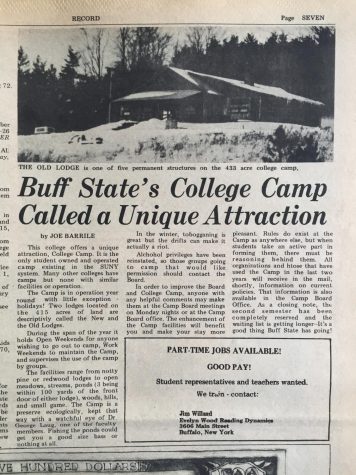 What would a stay at Whispering Pines look like? Upon first glance, it looks like the front of a postcard sold at a New York Thruway rest stop's gift shop. It's located in the southern-tier and about an hour-long car ride through the hills. Both lodges each have a fireplace, bathrooms with showers, large kitchens, a common area and bunk rooms, along with outdoor porches and barbecue sites. The Laug Lodge, named after one of the camp's original spearheaders Dr. George Laug, sleeps 38 people and the Alaimo lodge sleeps 60 people.
According to Buffalo State's website, there is a laundry list of possible activities for weekenders.
There are marked trails for hiking, with a camp guide available to give guided tours. Barbecue pits, a gazebo, and a lean-to are available for outdoor cookouts during the day and stargazing by night. Play basketball on their new court, or volleyball. For a night in, project a movie inside using their DVD projector.
It's unknown exactly when it was named Whispering Pines, but Meinzer theorizes it's named after this 60s song by country and rockabilly singer, Johnny Horton.
Student organizations can reserve the camp for any weekend of the semester. In 2015, USG offered an opportunity for all students to spend a weekend there, but aside from that, only student organizations are allowed to reserve it. Reservation information can be found here.
This article is a part of our Throwback Thursday series. Every Thursday, we go through our Record archives to find something interesting or relevant. If you have a suggestion for a specific topic or story, send us an email at [email protected].
To access more Record archives, all issues from 1913-2006 can be found online here. 
Twitter: @chessabond
Email: [email protected]
Leave a Comment
About the Contributor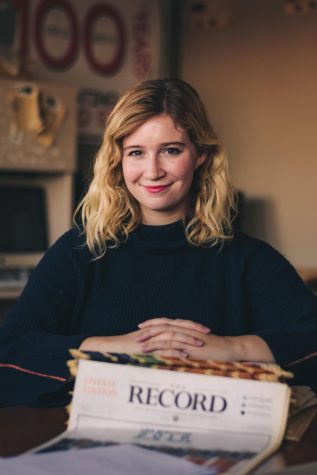 Francesca Bond, Executive Editor
Francesca Bond is an undergraduate student at SUNY Buffalo State. She has a major in Journalism and a double minor in Sociology and Political Science....