Quick Hits: Women's Volleyball takes down Rochester, 3-1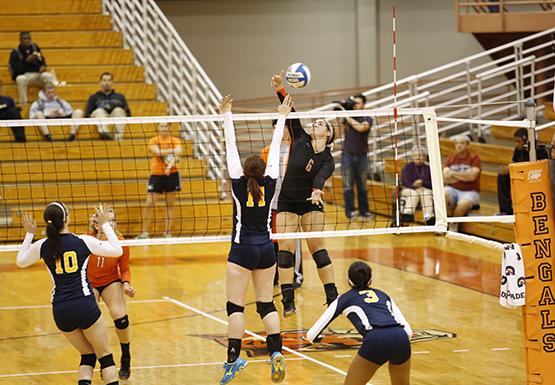 An intense first set win was critical to Buffalo State's victory.
In a tough contest to open the Bengal Challenge, the Buffalo State Women's volleyball team defeated the visiting Yellowjackets from the University of Rochester 3-1 on Friday night.
Setter Alyssa Durski powered the Bengals forward on offense with 33 total assists in the victory.
The Bengals closed out the fourth and final set with a comfortable 25-19 victory. Buffalo State won the critical third set of the match 25-19 after the two sides split the first two sets.
Sophomores Shine: Buffalo State was led by two-dominant sophomore middle hitters in Lauren Hansen and Eimile O'Brien. Hansen contributed 16.5 of the Bengals' points. O'Brien added 15.5 of her own.
Service Errors: With a roster full of young players, the service errors are something that surely needs to be tightened up. The Bengals committed 13 service errors in the victory. Of those 13 service errors, five were committed in the first set. Hannah Cormier struggled in her service attempts committing six total. The first of Cormier's service errors were committed in the first set with the Bengals up 12-7. That early error sparked a small 4-0 run bringing the Yellowjackets within in a point of Buff State. The Bengals cleaned up their act in the second and third sets by only committing two service errors in each set.
2016 Records: Buffalo State (6-26 overall, 0-9 SUNYAC). University of Rochester (24-11, 3-4 Liberty League).
Up Next: Buffalo State will continue the Bengal Challenge tomorrow afternoon as they host St. Lawrence at 11 a.m. followed by Case Western at 3 p.m. University of Rochester will look to bounce back in the Bengal Challenge as they take on John Carroll University at 11 a.m. and Fredonia State at 3 p.m.
Leave a Comment