Go zip lining at Holiday Valley, jam out to country music and brunch the right way at 12 Gates with Step Out Buffalo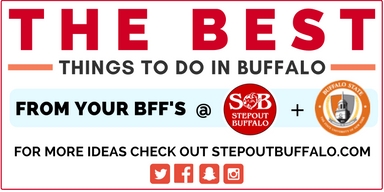 CONCERTS = SUMMER
You know summer is right around the corner when country artists start rolling into town! *Insert praying hands emoji here* Eric Church comes to Key Bank Center this Thursday on his Holdin' My Own Tour (PSA: Tickets ARE still available) For the first time ever, there will be no support act on this tour. Eric Church and the ECB will play two full sets with an intermission in between. Don't miss out!
BRUNCH 'N' BREWS
12 Gates Brewing Co. hosts their very first Brunch 'N' Brews this Sunday! The You Crack Me Up Truck will be there to fulfill all your brunch cravings and Lockhouse Distillery will be sampling their Revolution Coffee Liqueur made in cahoots with Public Espresso + Coffee! Not to mention live music from Gravy. Umm can you say #SundayFunday ?
GO TO A BANDITS GAME
This Saturday, the Buffalo Bandits take on the Georgia Swarm! The game will take place on the Bandits home field at Key Bank Center, beginning at 7:30. Get your tickets today!
SPRING FEVER???
Dying to get out and FINALLY enjoy warm weather and sunshine after a much too long Buffalo winter? Starting May 5th, travel to Holiday Valley and take on their Zip Line Adventure Course at the Sky High Adventure Park! The park will be open from 9:00 am to 6:00 pm, plenty of time to get your adrenalin pumping and release that spring fever!
For more on all of these ideas and more head to stepoutbuffalo.com/buffstate