Local brewer working to push forward Buffalo's craft beer scene
Chris Herr has been head brewer at Pearl Street Grill and Brewery since 2014. He's now an integral part of Riverworks' plans to get in on Buffalo's booming craft beer scene.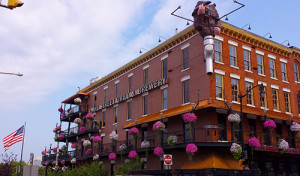 Pearl Street Grill And Brewery has been one of Buffalo's largest craft breweries since they opened their doors in 1997. In its 20 years of existence they have managed to put a stamp on the local food, patio – and most notably – the craft brewing scene.
For the past three years Chris Herr, a Buffalo native and Williamsville East graduate, has been the head Brewer at Pearl Street, and all four breweries Pearl Street owns in Buffalo.
After graduating from SUNY Fredonia with a degree in business, Herr was unsure of what he wanted to do.  After scoring a job for a year doing car accident testing for the United States Government, Herr began brewing at home and got hooked.
He reached out to Pearl Street about his interest in craft brewing.  The initial meeting turned into a few weeks of shadowing the assistant brewers, and ultimately, Pearl Street offered him a job as an assistant brewer. In 2014, Pearl Street handed him the "keys" to the brewery, promoting him to head brewer.
"He's always in here helping make new flavors and trying new ideas," said Brian Vaughn, an assistant brewer.
In his three years as head brewer at Pearl Street, Herr has also been involved in the development at the Buffalo RiverWorks Complex that sits on a massive piece of land on Buffalo's inner harbor.
Herr is dedicated to bettering and expanding Buffalo's brewery culture.
"When making the new brewery, we wanted to add to the skyline of Buffalo," he said. "We have found a niche in Buffalo's craft brewing scene. Find a cool spot to hang out, then build a brewery there."
Through this simple but effective mindset, Herr believes he has helped push forward the resurgence of Buffalo and its inner harbor.
He spoke passionately about the growth of craft breweries in the past decade. He explained how the largest beer companies produce beer that is very watered down with little flavor. He calls it "flavorless yellow water."
Due to its weak, inoffensive flavor, light beers like Coors and Budweiser are successful because they appeal to the masses. Craft breweries are gaining popularity by implementing new styles of beers that offer new flavors.
In the past 10 years, Buffalo has seen 26 new breweries pop up. According to Herr, the competition is welcomed.
"The brewing industry is one big family," he said.
By sharing new tips and tricks with each other, the local craft beer industry grows as a whole.
With Buffalo RiverWorks Brewery set to begin brewing beer early this summer, Chris is excited for the opportunity to brew up new flavors, implement new techniques and to continue improving Buffalo's attractiveness as a craft beer destination.
email: [email protected]