Celebrate National Grilled Cheese Day and go to the first Food Truck Tuesday of the season with Step Out Buffalo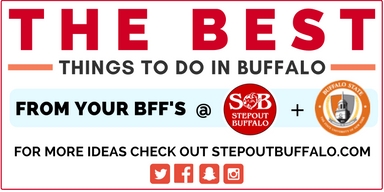 FOOD TRUCK TUESDAYS ARE BACK
Starting this Tuesday, every Tuesday all summer long in Larkin Square dozens of food trucks from Buffalo, Rochester and beyond come together to celebrate a night of food, music and fun! Enjoy a variety of delicious food and drinks along with live music on The Boardwalk! No better way to prepare for hump day than Food Truck Tuesday!
PAINT NIGHT @ HVAA
Looking for a fun date to go on this weekend? Or maybe a girls night out? Head to Hidden Valley Animal Adventure Park this Friday! Appetizers are included and your first drink is on them. Show off you skills #judgefree as you make a plain white canvas come to life with your own animal inspired painting!
NATIONAL GRILLED CHEESE DAY
Calling all die-hard grilled cheese fans! In honor of National Grilled Cheese Day, Buffalo Melting Point will be selling their Classic Grilled Cheese this Wednesday (from 11:00 AM to 10:00 PM) for $1! That's right, ONE DOLLAR. Since opening in March of 2014, Buffalo Melting Point has become the region's go to destination for delicious and inventive grilled cheese sandwiches and soups. Sooo let's just say it's going to be one of the best grilled cheeses you will ever have!
PRE-DINGUS DAY PARTY
Buffalo Bison Brewery has set up a plethora of Polish-themed things to kick off Dyngus Day and the release of their newest spring seasonal beer, Polonia Pils. Celebrate this Saturday with all things Polish (even if you're not Polish yourself) pils, pierogis, polka and so much more! Don't forget to wear your red and white!
For more on all of these ideas and more head to stepoutbuffalo.com/buffstate