Albright-Knox Director's Lecture focuses on latest installation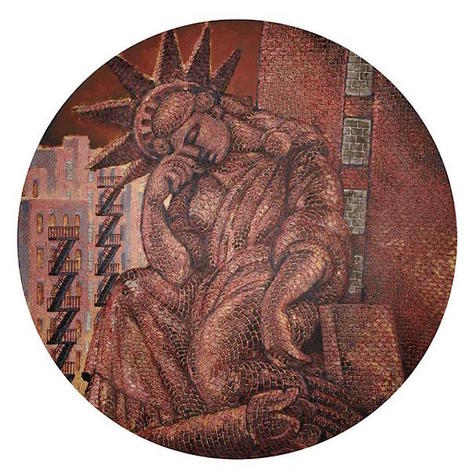 The second-to-last talk in Albright-Knox's Director's Lecture Series focused on one of the Albright-Knox's most recent acquisition's and installations.  The specific painting, Martin Wong's Liberty Mourning the Death of Her Sister- Beijing, 1989, was acquired by the gallery in 2014 and sat in storage for nearly 3 years until it was finally put on display.
The Albright-Knox has held Director's Lectures since 2013, where they then focused on the history of art museums.  Each year since, the lectures have been geared toward certain schools of art, specifically modern and avant garde.  This year's lectures focused on six new installations the Albright-Knox has recently displayed.
The lectures allow one of the Albright-Knox's directors to speak about the work at hand, where they can explain the history and influences behind the art and the artist.  A short Q & A follows directly after.
Last night's lecture was delivered by Deputy Director Joe Lin-Hill.
"This specific painting strengthens holdings of 1980s artwork," said Lin-Hill, "it is also representative of [Wong's] works and what he is most famous for."
Martin Wong's piece is evocative of politically-themed protest art that was popularized in the 1980s.  It depicts the Statue of Liberty sitting in a reflective pose in front of buildings that are clearly reminiscent of Manhattan's Lower East Side, Wong's home at the time.
It's look resembles the facade of a brick wall, which is where Martin Wong took most of his inspiration from.  To Wong, this was not equivalent to painting a building, but building a painting.
"I would look at a brick wall and hate it," said Lin-Hill, "he saw a brick wall and found beauty in it."
It was acquired from auction in New York City for $137,000, although it was valued at only $20,000, by Senior Curator Cathleen Chaffee.  Deputy Director Lin-Hill believed that the painting would fit well within the context of the paintings already on display at the Albright-Knox.
"Whenever we acquire a work there's a lot to think about before purchasing," said Hill, "we have to think about the relations to our other works on display, the history of the piece, and its role in contemporary art."
As of this article, there is no date for when the painting will be taken off display.  For now, it is open to view for those who wish to walk through the Albright-Knox. Wong's painting is located at the base of the Albright-Knox's auditorium, right across from the AK Cafe.
The last Director Lecture will take place on April 18 at 6:30 pm.  It will focus on Civil Tapestry 5 by Theaster Gates.
Tickets to the event are $35 for Buffalo State students, $65 for Members, and $85 for the general public.
email: [email protected]