UB declares independence from SUNY, gets rid of in-state tuition rate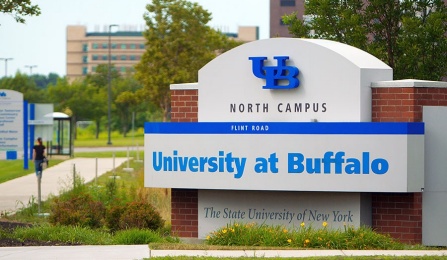 At a press conference on Friday afternoon in front of Alumni Arena on the University at Buffalo North Campus, UB President Satish K. Tripathia, along with board of directors member Gregory M. Bauer, announced the university will be leaving the State University of New York (SUNY) system and become a private institution starting in 2018.
"The partnership between our institution and the SUNY system has been beneficial for both sides over the past half-century," Tripathi said. "But this university has made tremendous growth over the past decade and the board of trustees and I feel that the University at Buffalo has outgrown the SUNY system."
UB was originally founded as a private school back in 1846. The school merged with the SUNY system in 1962. Part of the agreement included the state buying land and building what is now the north campus and surrounding infrastructure such as the I-290, I-990 and the Millersport Highway.
"It's time to return to our roots," Bauer said. "There was a time when we needed SUNY, and they provided us with amazing support, but it is time to grow and evolve to the modern world."
President Tripathi and trustee Bauer said that the biggest reason for going private was made in order to get rid of the in-state tuition rate and charge all students the same tuition, the out-of-state rate.
"It is unfair for a student who comes to the University at Buffalo from India has to pay a higher price than a student who lives in New York State for the same education because of where they are from," Tripathi said. "That's discrimination."
Bauer agreed.
"We offer students a high-quality education here at UB," Bauer pointed out. "It's time that everyone pays their fair share."
UB students who are New York State residents will now have to pay the additional $17,240 that is currently charged to non-New York State residents.
UB students weren't shocked, but still disappointed by the announcement.
"I never really considered UB a state school. At every turn they're finding new ways to get money out of our pockets," said Janice Schuuts, a junior business major. "We have to pay a five-cent toll when entering any building on campus. I expect nothing less from UB."
The University at Buffalo is currently the largest school in the SUNY system with almost 30,000 undergraduate and graduate students.
SUNY Chancellor Nancy L. Zimpher was surprised and disappointed by the university's decision.
"After speaking with Governor Coumo, we both agree that UB leaving SUNY is problematic for SUNY, the university and its' students," Zimpher said in a statement late Friday afternoon. "The state has given the university a lot of funding and support throughout the years, helping to build it into the one of the best schools in the entire country. The idea that they have 'outgrown' SUNY is illogical and mindboggling."
The statement went onto say that SUNY and the state would be looking into taking legal action against UB, President Tripathi and the board of trustees.
"I will fight for the college students of New York," Governor Coumo tweeted out Friday night.
This story is an April Fool's joke and is not based in fact. 
email: [email protected]