Rock vs. hip-hop at Lockhouse and Mohawk Place with Step Out Buffalo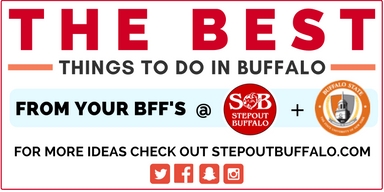 LOCKHOUSE CONCERT SERIES
If your weekend is looking a little full (or even if it isn't) you're in luck! Lockhouse's Winter Concert Series will be rockin' and rollin' on Thursday this week at 9:00 pm! Did we mention that it's only $5?! This week the series will be featuring Digisaurus and Nuke Fun.
SPRING IS IN THE AIR
This weekend (Friday March 31st from 4:00 – 9:00 pm, Saturday April 1st from 10:00 – 5:00 pm and Sunday April 2nd from 10:00 – 4:00 pm) head over to the Hamburg Fairgrounds for Springtime in the Country. Here you will find all things that will make you thankful for spring. Visitors can shop from over 200 artisans from across the nation, learn about their considerable talents and purchase only handcrafted items. Food trucks will be on site as well as craft wineries, brewers, distillers and more! Admission is $7 at the door.
THIS IS HIP HOP III
Sunday March April 2nd from 6:00 – 9:00 pm, FTMP Events presents This is Hip Hop III and it's about to be LIT. This is event will take place at Mohawk Place, 47 East Mohawk Street in downtown Buffalo. You won't want to miss Da Villy Kids, Marc Lee, BrownieBabyy, The States, Concrete Gang, J Na$ty and Rizzo. Tickets are $10 pre sale and $15 at the door.
FISH FRY FRIDAY
The Corner Bar's fish fry gets better every single year! This local restaurant has been serving their famous haddock fish fry for 50 years! If you don't feel like getting too crazy, you can order up a small portion for $10.99 (not recommended, because why?) or go for the full-size portion for a whopping $2.50 more. LOL. Try it out for yourself this Friday, you won't be disappointed! McPartlan's Corner is located at 669 Wehrle Drive in Buffalo.
For more on all of these ideas and more head to stepoutbuffalo.com/buffstate