Check out must-try Local Restaurant Week options, show off your spring inspo with Step Out Buffalo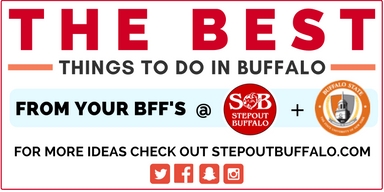 IT'S LOCAL RESTAURANT WEEK! – Local Restaurant Week, A.K.A. the best week of the entire year is back! From March 20-26, 200 local restaurants create special multi-course menus priced at $20.17, $30.17 and $40.17 for your love of food enjoyment! There are 18 brand spankin' new restaurants added to our must-try list this year. Be sure to check out the full list of restaurants and their locations on our website!
QUEEN CITY ROLLER GIRLS – Come out to Riverworks and watch the Lake Effect Flurries kick off their season as they take on the 19th-ranked Montreal New Skids on the Block at

7:00 p.m

. Even if you've seen a bout before, you've never seen one like this!
GOODBYE WINTER, HELLO SPRING – FINALLY! We want to see what you're up to as the weather gets nicer. Hashtag your photos with #hashtagstepoutbuffalo for a chance to be featured on our website or even our Instagram! Show us your spring inspo that we've been waiting for all winter long!
BUFFALO MOTORAMA – This weekend from March 24-26, come out to the Buffalo Convention Center and view tons of cars ranging from original, modified race and full-on custom to hot rods, classics, pro street and unrestored! Tickets range from $13 for one day to $35 for all three days.

For more on all of these ideas and more head to stepoutbuffalo.com/buffstate