Football takes down Brockport in 42-40 shootout
QB Kacz, WR Doherty lead way on offense to help Bengals earn I-90 Bowl trophy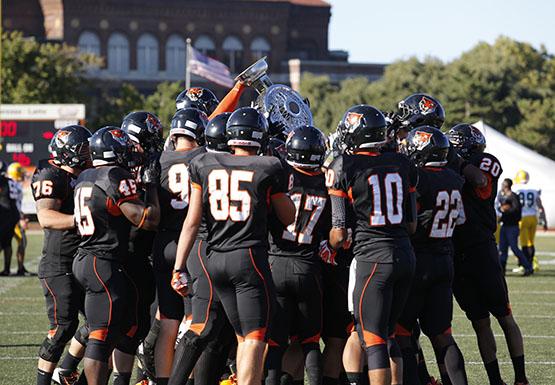 PHOTO GALLERY: Buffalo State 42, Brockport 40
On Saturday, the Buffalo State football team accomplished something it hadn't done in 14 years: it started the season 2-0.
In a nail-biting 42-40 win over Brockport on Saturday, the Bengals opened the season with two victories for the first time since 1999. That year was also the last time Buffalo State made the NCAA playoffs.
"Knowing that we're doing something that hasn't been done in a while is a great feeling," quarterback Casey Kacz said. "I know Coach (Jerry) Boyes is loving it. It's bringing back some of his glory days probably, and hopefully we can just restore the tradition to what it was in the 1990s."
The team has jumped out to 2-0 largely thanks to stellar play from Kacz and the offense. The Bengals came from behind to beat Brockport by scoring touchdowns on four of their six offensive drives in the second half.
Head coach Jerry Boyes said that the key to the team's success against the Golden Eagles came down to execution in the fourth quarter.
"We didn't execute when we really needed to last year (against Brockport)," Boyes said. "This year we did, and that's the difference in the game."
The Bengals surrendered an early lead for the second game in a row Saturday, when Brockport quarterback Ty Stoldt hit wide receiver Andrew Mrozek for a 22-yard touchdown pass with 3:51 left in the first quarter.
Buffalo State answered with two touchdowns of its own, before Brockport tied the game at 14 going into halftime.
The Golden Eagles scored to make it 21-14 less than a minute into the second half on a 76-yard touchdown pass from Stoldt to Darryl Thompson. After a Buffalo State touchdown tied the game, Brockport added another touchdown, but the extra point attempt was blocked.
Defensive back Chris Hall came around the left side of the offensive line and made a diving block to stop the kick. The play kept the score 27-21. Boyes said it was the turning point in the game.
"If you have a kick or a punt blocked in a game, nine out of 10 times you lose that game," he said. "That's how important that is, and that's why the kicking game is so important."
The Bengals ran with the momentum, scoring touchdowns on the next two drives. They added their sixth touchdown of the day two drives later, and were able to withstand a late push by Brockport to preserve the 42-40 win.
"You don't want to make judgments after only two games, but there certainly are some positive signs," Boyes said.
One of those positive signs is junior receiver Mike Doherty. Doherty missed all of last season after suffering a devastating knee injury less than a week before the season began. He had 10 receptions for a career-high 228 yards Saturday, bringing his season totals to 15 catches for 332 yards and a touchdown.
What's more is that Kacz and Doherty seem to have a special connection on the field. Whenever the Bengals need a big play, Kacz seems to look to Doherty, and so far he has been answering the call.
Doherty attributes his success so far this season to the bond he and Kacz have on and off the field.
"If we're not playing on the field, me and him are always talking about football," Doherty said. "A lot of that has to do with (the fact that) we have a real good connection on and off the field, so for some reason it just pans out that way usually."
Running backs Rich Pete and Ismail Brooks also had big games for the Bengals. Pete had 104 yards rushing and two touchdowns, while Brooks finished with 27 yards and three touchdowns.
This week, the Bengals next take on Division III perennial powerhouse Wisconsin-Whitewater. Buffalo State beat the then No. 1-ranked Warhawks last year in Whitewater, 7-6, on a last-second touchdown.
This year, Buffalo State plays host in the rematch. The Bengals are looking at this game as a chance to once again prove themselves against a nationally ranked team.
"We're trying to focus on this game like it's a championship game," Kacz said. "We're not looking ahead to conference play, we're trying to make it as though this is the last game we'll ever play. And it has to be a 'W.'"
Kickoff between Buffalo State and No. 15 Wisconsin-Whitewater is scheduled for noon on Saturday at Coyer Field.
Chris Dierken can be reached by email at [email protected] or on Twitter @cdierken.
Leave a Comment