The complete guide to a successful night out in Niagara Falls, Canada's Clifton Hill
You're probably doing it wrong
Happy spring break 2017, Buff State.
In Buffalo, there are two rite of passage drinking ages: 19 and 21.
For 19 and 20-year olds, it's one of the best perks of living a short drive from the Canadian border: Having the ability to enjoy a night out drinking legally with friends two years before you can in the states.
But there's a right way to do Clifton Hill, and varying degrees of wrong ways to go about it as well. Here's everything you need to know to have an enjoyable, successful night in Niagara Falls, Canada:
Be an adult. Drink responsibly.
As soon as you hand a bartender your American ID, there's a good chance they think already think you're an idiot. I've never gotten out of hand or been a nuisance, but I've received poor service and felt a sense of wariness because I was a kid from Buffalo thanks to the actions of others. Based on some of the stuff I've seen, I don't blame them. Help reverse the stereotype. At the very least, don't support it.
Know your limits. Especially if you're not an experienced drinker, take it easy. Tip your bartender. Have fun, responsibly. It's that easy.
Escape the tourist trap of Clifton Hill
This is the first thing I tell anyone going to Clifton. If you ask a friend where you should go to drink in Clifton Hill, there's a 95% chance they'll tell you Boston Pizza. If that's the case, there's a 100% chance they're wrong. I'll rip Clifton Hill's Dave and Buster's later; let me give you some alternatives first.
Yank's Old Niagara Bar and Grill
Yank's, claiming to be "Niagara's first bar and grill," is the only down-and-dirty bar right in Clifton Hill. The bartenders are always super cool and polite (which isn't always the case if you're an American kid there to drink). There's nothing special about it, but at least a beer is a reasonable price instead of the $10 pints at Boston Pizza. It's a good-sized bar with plenty of tables and barstools. There's a pool table and a great window view of the interesting people of Clifton Hill that walk by.
I spent a good portion of the night here last New Year's Eve. My buddy Nick offered to help the bouncer weed out fakes. Surprisingly, he accepted the offer with a laugh and a wide smile. We watched and laughed as Nick and the bouncer picked out several fakes over an hour. "I just got that kid kicked out," said Nick, more pleased with himself than he should have been.
This is a great place to take a date if you don't want to spend the big money it costs to go to nearby date-favorite Skylon Tower. They have a nice setting, great food, a full stage that hosts live music nightly and very good, fairly priced house-brewed beer. It's not uncommon that a brewer will be dumping a sack of hops into a nearby fermenter while you enjoy dinner and a free show.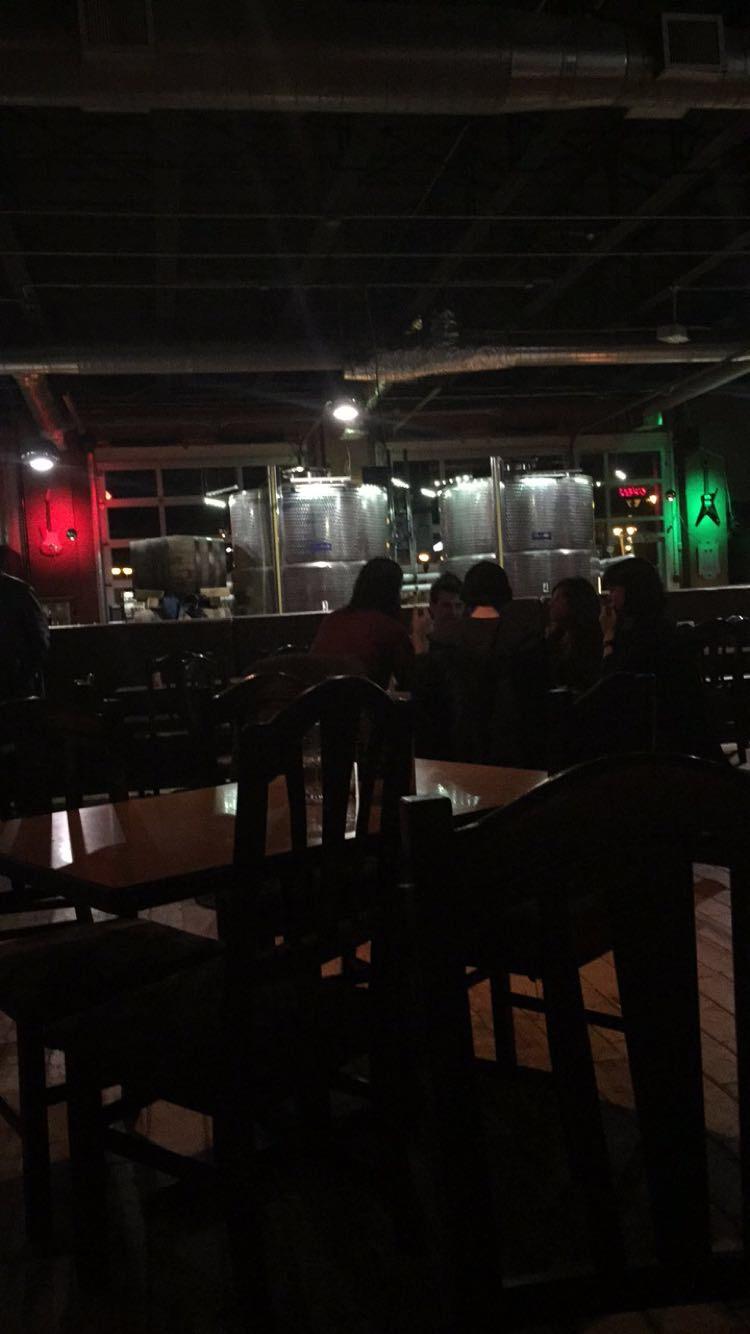 If you're out to drink, start your night here with a meal that blows the one you'd get at Boston Pizza out of the water at a cheaper price. Think Ellicottville Brewing Co. meets Hard Rock Cafe.
*Taps and the next two locations are on Queen Street, which is just over a mile from downtown Clifton Hill.
Grand Central Sports Bar and Grill
This place checks all the boxes: They have a great beer selection, good specials, good food, plenty of pool tables and dart boards, lots of TVs including a giant projector screen and a fun atmosphere. So, everything you'd want that Boston Pizza has without obnoxious prices and people.
I love the music they play – Time to Pretend by MGMT, Mr. Brightside by The Killers, Ms. Jackson by Outkast – that kind of stuff. The last time I went, a solid, enjoyable cover band was playing Tom Petty, Oasis and the like. There's an outdoor patio for those who want to get away from the music and have a conversation.
Grand Central is always fairly full, but never packed to the point where it's too crowded. The poutine is excellent. It seems like a great place to watch hockey, but be ready for some shit-talking once the locals realize you're a Sabres fan from Buffalo. If they start to actually offend you, just tell them. You'll probably get a polite "sorrey" in response.
A friend texted me literally yesterday: "What's the name of your favorite bar in Canada? My buddy wants to know" My response? You guessed it – Grand Central.
When I first stopped in here about two years ago, they had just opened and seemed to still be in the process of building a regular customer base. On a Thursday night, my friends and I and two others were the only ones in the bar. I'm glad we did, otherwise the guy playing guitar and singing would have been awkwardly serenading the bartender when the other two people left right before he began his set.
You might be noticing a pattern here: live music. Canadians love it, and they're usually pretty good at it, too. I've noticed a significant discrepancy between the American and Canadian dad bands I've seen play at various bars.
The lady bartender was super nice and friendly. This place is much smaller than the other three places I've mentioned – bar seating only. They serve craft beer only. It seemed like they were trying to carve out a hipsterish, music-scene-oriented niche. I wouldn't be surprised if they've managed to by now.
Boston Pizza
I came here last summer with a group of friends, at which point I was already wary of how awful it is. But they all wanted to go, so I didn't want to be that guy.
My buddy Dave ordered what he thought was a Blue Moon. I made sure to point out to him that the tap actually read "Belgian Moon". He wasn't happy the beer was $9, and was understandably even less so once I pointed out to him that they peddle an imposter at a surplus rate.
But wait, it gets better (and by that, I mean worse): I ordered an Alexander Keith's IPA. As soon as I tasted it, I knew it wasn't an IPA. It tasted like Coors Light. Anyone who's had an IPA knows it has an extremely distinct, hoppy flavor. Dave tasted it and confirmed that it was definitely some sort of very light beer. I told the bartender it wasn't what I ordered. She replied "I poured it from the right tap," and walked away without offering another drink. At this point, I convinced Dave to leave and go to Grand Central. He thanked me when he looked over the menu and saw actual Blue Moon on the menu for half the price of whatever the hell "Belgian Moon" is.
And, seriously, who wants to be surrounded by families on vacation with children while they get drunk with their friends? Is that not weird to anyone but me? Having to walk through a maze of small children and baby strollers while half-drunk is an unsettling, uncomfortable way to kill a buzz.
I found myself in Clifton Hell once again this past New Year's Eve. This time, it was walking into an all-out brawl that sent us out the door. As we were outside waiting for the other half of our friends to meet us, a hammered dude that looked no more than 16 fell face-first into the cement outside while being kicked out. He gushed blood. If that's the kind of night out experience you're looking for, check out Boston Pizza.
Other options: Hard Rock Cafe, The Keg, Niagara Brewing Company
I've heard Dragonfly Night Club can be a lot of fun. Clubbing isn't my thing, but if you're into a more high-energy atmosphere, check it out. There's almost always a cover (usually ~$20).
Bars close at 2 a.m.
Yeah, you'll have to wait until you're 21 to experience the weirdness of a night that ends in a tired, relieved bartender switching on the lights and announcing last call at 4 a.m. in Buffalo, stunning a group of drunken, dazed patrons squeezing everything they can out of a wayward night.
The casinos in Niagara Falls, Canada are open 'til the sun comes up, but stop serving alcohol at 2 a.m. as well. People either love or hate casinos. Overpriced drinks, the obnoxious flashing lights on casino games and seeing presumably sad, alone senior citizens passed out at slot machines at 1:45 a.m. isn't for me. Sometimes, a waitress will come around with a tray of free drinks, aiming to get you drunk so you waste more money gambling.
So, if you want to get a full night out in, make sure to plan ahead and remember that last call in Niagara Falls, Canada arrives when, just over the border in the 716, the night is still young.
Travel
Make sure to have a designated driver, obviously.
You can park at the American side of Niagara Falls and walk over the border – this eliminates the off chance that your car is searched, which is a nuisance even if you have nothing illegal. I prefer to drive over because I go to Queen St., which is a bit of a walk.
If you do drive over, you don't need to pay for parking. Go two blocks past downtown Clifton Hill and park on a side street.
A cab ride from Buffalo will range from $70-$100 each way. If you know a cab driver, call their cell directly to save yourself the money the taxi service takes if they're willing to keep it off the books (up to 40%).
The longest I've waited at the border is about 40 minutes, but it usually only takes 10 or less. I've never seen a line of more than 10 people while walking across the border, so that only takes a few minutes.
Other useful tips:
• Turn your phone on airplane mode as soon as you cross the border. You'll be charged insane rates for data usage in Canada. If you're close enough to the border, you might be able to stay connected to your own provider. It's risky, though. You could connect to Bell (the Canadian cell provider) at any time.
• Ask the bartender/waiter for the WiFi password – they'll almost always give it to you.
• Exchange your American money for Canadian at Duty Free or use a credit/debit card (which automatically accounts for the exchange rate). If you use American money, they might not give you the exchange rate (which is one of the best parts about going out in Canada). The American dollar is currently worth 1.33 Canadian dollars (A $50 tab will come to about $37).
• Remember your enhanced license or passport (Duh, but I've had to turn around before).
email: [email protected]
Twitter: @Almasi_