The runway: Does it have enough diversity?
Some think the fashion industry shows promise, while others say certain groups remain under-represented.
The fashion industry has been known to carry a strict set of guidelines for models on the runway. These guidelines often include heights that range from 5 feet 9 inches up to 6 feet and dress sizes 2-4. For years, the industry has been lacking diversity on the runway. There have been many occasions that caused controversy over brands neglecting black models.
Back in September of 2016, Kanye West stirred up a disputation over hosting a "multiracial women only" casting to find models for his Yeezy Season 4 show at New York Fashion Week. This brought about vast perplexity and shock via social media, with tweets to Kanye West such as, "So like… how is he determining this? Is there a board to verify they're multiracial?" His choice to reject potential models due to their race is highly considerable given the business's issues involving diversity amongst models, as one Twitter user composed: "This is a major issue. In an industry that consistently cuts black models out, you do this?! You are the absolute worst."
Regardless of the discussion, the casting had a high turn out with immense lines of potential Yeezy models circumnavigating Jack Studios in New York. However, the commotion wasn't overlooked as one lady dissented outside the casting site, standing topless with a sign which read "multiracial only… light skin only… you ain't slick [Kanye], we call them mutts Kanye West."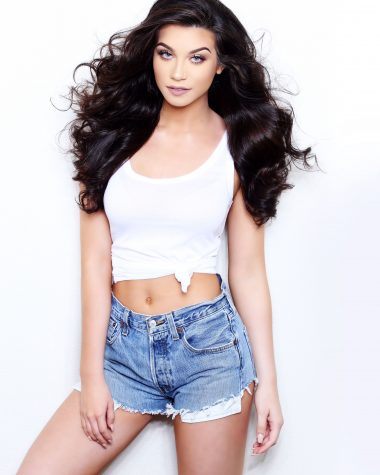 Gina Mellish is an 18-year-old former Miss New Jersey Teen USA 2016 model that has an abundance of runway experience.  Gina walked in the Mercedes-Benz fashion week New York for Michael Costello in the fall of 2016 and also walked in New York Fashion Week in the spring of 2015 for Li Jon.  The Mercedes-Benz fashion week was a series of worldwide fashion weeks sponsored by Mercedes-Benz and produced by IMG (International Management Group.)
Gina is a 5-foot-9-inch Caucasian model who wears a size 4 dress.  Gina admits that she prefers print modeling to runway because she feels more respected in that aspect of the industry.  Runway shows require casting, which allows a designer to pick the models that they want to represent their line.  The runway process is "very diminishing to who you are" says Gina, who once got rejected from a designer who told her that she was "too big" for her clothes.  Still, she did not take this to heart, "sorry, I like my cheeseburgers" she joked.  Gina explains that designers look for models that best represent their customer base, which, for some, entails very petite women.
Chanise Sharay Smith is a 27-year-old African American model from New Jersey.  She is 5-feet-10-inches and wears a size 4 dress.  Chanise has many accomplishments throughout her years of modeling; she is International Model of the Year, Director of Youth Fashions for a fashion magazine and Model/Runway Director for Atlantic City Fashion Week.  Chanise has been in the modeling industry for many years.  She started when she was just 16 years old after a few years of participating in beauty pageants and walked in her first fashion show when she was 17 years old.
When she first started out, Chanise said there was definitely not enough diversity on the runway.  "It was frustrating to hear a designer say they only wanted "white" models or "Asian" models," she expressed.  Chanise has experienced both discrimination and rejection in the industry.  "It happens all the time, you kind of get used to it in this industry" she explained,  "in [many] fashion shows you will find that the Caucasian models are preferred and chosen first." Although, she contends that today the runway has developed into a more diverse industry.  "Now everyone is on the runway," she exclaims "trans genders, blacks, whites, plus size, etc."  Chanise views the industry now as remarkable because everyone has someone they can identify with on the runway.
An industry as renown as fashion is as competitive as they come; but competition also invites controversy.  The topic of discrimination against a model's race in runway shows has been prevalent for years and was recently incited by Kanye West's Yeezy Season 4 show.  Gina Mellish revealed that designers are certainly particular about the models they choose to represent their fashion lines because it helps to establish their customer base.  However, Chanise Sharay has noticed significant change in the industry in recent years to showcase more diversity amongst runway models.  This improvement of the industry shows promise that an individual of any race, shape, or size can showcase fashion.
email: [email protected]