Women's soccer locks down Pitt-Bradford in 1-0 win
Goalkeeper Banfield records third shutout of season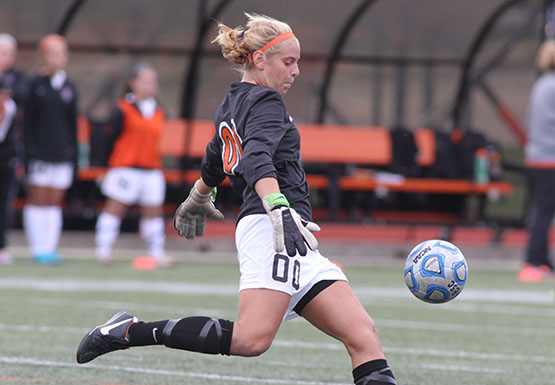 The Buffalo State women's soccer team improved to 3-1-1 this season after beating the Pitt-Bradford Panthers, 1-0, Saturday in its home opener.
Defense prevailed for both sides until the 64th minute, when Shaunta Pyles scored off of a long pass from Jordan Dudish. Linda Banfield was stellar in net once again, making three saves and a number of positive plays to earn her third shutout of the season, and the eighth of her career.
Banfield was named SUNYAC Women's Soccer Defensive Player of the Week for her performance.
The Bengals offense remains the weak spot for the team, as they couldn't capitalize on many Panther miscues early in the game. They are showing signs of improvement, however. The Bengals outshot the Panthers, 14-7, and had four corner kicks, compared to two by the Panthers.
Dudish, who was credited with the assist on the lone goal of the game, said the team has room for improvement on offense, but added that the defense is still looking good.
"We still need to put more (shots) in the back of the net, and I can feel it coming," Dudish said. "Our defense was stubborn which is what we want, so as a collective (unit) we did that well."
With the SUNYAC opener still three games away, Buffalo State has time to master its offensive game. The Bengals have outshot their opponents, 63-37, this season, with 26 shots on net. Although they are not scoring many goals, the Bengals have still outscored their opponents, 4-2, so far.
Senior midfielder Paula Jones said she thinks the offense is improving, and believes that more shots will hit the back of the net soon.
"We've been working on a lot of attacking and finishing at practice, so I think we are starting to see improvement and I know more goals will come," Jones said.
The defense has been superb so far this season, refusing to let opponents control the ball. The Bengals haven't allowed more than one goal in any game so far, and they have had success limiting the opposition's chances.
When the opponent manages to get a shot on net, Banfield has impressed. With a 0.38 goals against average and a .882 save percentage, she has been one of the team's bright spots.
Jones said that the Bengals are playing solid defense, and that has helped them find early success.
"Our defense is playing really strong, so we're able to limit the other team's chances," Jones said. "(Banfield) made a couple big saves again for us last weekend."
Coach Nick DeMarsh knows the Bengals need to clean up their play, but noted that is what non-conference games are for.
"If you just focus on winning, something is missing," DeMarsh said. "We are focused on doing things the right way and our attitude towards the game."
The Bengals have two more non-conference games, both away, before their first SUNYAC game against Geneseo at home. They play Allegheny on Wednesday and Westminster on Saturday.
Chris Losey can be reached by email at [email protected]
Leave a Comment