Workforce Recruitment Program helps connect students with disabilities to future employers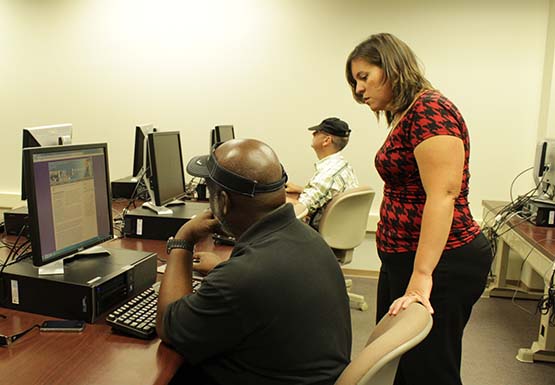 SUNY Buffalo State will participate in the Workforce Recruitment Program again this year. The program is designed to help students with disabilities find employment.
WRP is an employment database that connects public and private sector employers with college students with disabilities. It offers internships, full-time employment, and summer jobs.
This year, the program was coordinated at the Career Development Center by Lynn Rogers, Student Employment Coordinator and Senior Career Counselor. Rogers also worked with the Veterans Services Office and Disability Services Office.
"This is a really great opportunity for students with disabilities," said Lisa Morrison-Fronckowiak, director of the Disability Services Office. "There are some really interesting placements, such as the Smithsonian, or other federal agencies that could lead to full-time employment after graduation."
For Walter Searcy, a public relations graduate student, full-time work is exactly what he hopes to get from the program.
"It would open doors I've been trying to get into on my own," Searcy said. "I am a disabled veteran, so this could make the process go smoother."
According to the WRP website, the program offers employment from various federal agencies as well as private companies such as Herzog Railroad Services, Underwriters Laboratories, and Vanguard.
But according to Rogers, the program offers benefits beyond employment.
"It gets students to think about what's going to happen after college, and how they're going to be able to address some of the interview situations they might be put in, as well as workplace situations," Rogers said.
Despite the benefits, the number of students who apply for the program is small compared to the number of students registered at the Disability Services Office.
According to Rogers, this could be for a variety of reasons.
"Some students don't want to acknowledge that they have a disability," Rogers said. "They don't want to get hired through a program like this because they might feel like there are stereotypes involved."
Morrison-Fronckowiak offered another explanation.
"Unfortunately, that is primarily due to the timeframe the WRP itself gives college campuses to distribute the information and have students return their completed packet," Morrison-Fronckowiak said. "The window is pretty small."
According to Rogers, the federal employment process can also be slow.
Rogers explained that certain positions require security clearance and background checks, which take time.
A student last year who was interviewed in November was not contacted for an internship until April. However, the position offered was with the Smithsonian, which she accepted.
"It's a great opportunity to work for the federal government," Rogers said. "You just need to have patience with the hiring process and know that it may take a little while to get in."
She added that once hired by the government, there is greater flexibility to move between departments.
To qualify for WRP, students must have a disability, be a U.S. citizen, and be a current student or have graduated within the past year. Students must also be full-time, unless their disability precludes them from taking a full course load.
All students registered with the disability office who have submitted their documentation are eligible for the program.
Before they can be employed, students must also have a licensed health professional confirm their disability with a Schedule A form.
To apply for the program, students fill out a form online. Rogers checks if the student meets the program's requirements, and then approves them to fill out a second form. Once the second form is complete, Rogers sets up a phone interview between the student and a WRP recruiter.
The recruiters are federal employees with disabilities who volunteer their time for the program. The recruiter for Buffalo State this year works for the National Credit Union in Albany.
The Career Development Center holds mock interviews with students. They will hold an interview workshop for WRP students after the application period has ended.
They also hold workshops to help students create resumes, and to provide feedback.
The Career Development Center will hold an information session on Sept. 23 to help students complete the application process.
The deadline for the application process is Sept. 25. Interviews will be held between Oct. 1 and Oct. 15.
For students who are unsure if they qualify for the program can contact Lynn Rogers at the Career Development Center or Lisa Morrison-Fronckowiak at the Disability Services Office.
Autumn Evans can be reached by e-mail at [email protected]
Leave a Comment