Weekly Elmwood farmer's market brings out community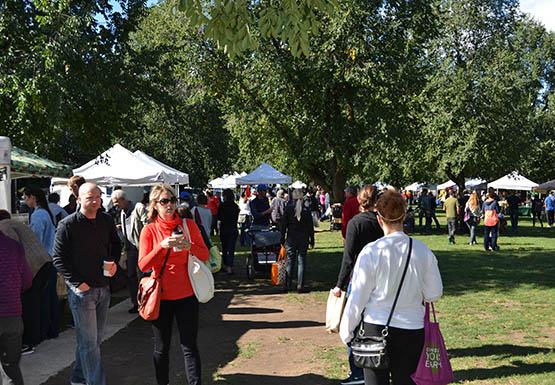 The Elmwood-Bidwell Farmers Market, a producer-only market, gives students and locals alike the opportunity to buy fresh, locally made products.
Over 35 vendors from Western New York set up shop at Bidwell Parkway every Saturday from 8 a.m. to 1 p.m. to sell everything from organic cheeses to cosmetics made from locally produced materials like honey.
The market, only three blocks south of the Buffalo State campus on Elmwood Avenue, emphasizes vendor only sales. According to their website, every item sold at the market is sold by the business that grew or produced the product.  This cuts out the middleman and directly supports that local business.
It has consistently won the Artvoice "Best of Buffalo" award for "Best Outdoor Market" since 2008.
Trystan Sandvoss, co-owner of First Light Farm & Creamery, is in his third season as a cheese vendor and calls the Elmwood-Bidwell market his best.
"The customer base is knowledgeable and aware. They are interested in organic, sustainably produced local products. They know the difference between what they buy at the store and at the market and they are engaged in that difference," said Sandvoss.
First Light is known at the market for its organic cow and goat cheeses, particularly their spreadable goat chevre. All cheeses are $7 and any 3 cheeses are $20.
Some items are even sold for lower prices at the market than at the vendor's shop. Go Veggies, which specializes in vegan and gluten-free food, sells packs of their uncooked veggie patties for $4-5 at the market. At the café, located at 264 Bryant St., a single cooked patty starts at $6, and many condiments have additional charges beyond that.
Owner Genga Ponnampalam says Go Veggies does well at the market, due to of the strong vegan and vegetation customer turnout there. His stand sells burgers, wraps and soups to take home and prepare.
For those of legal drinking age on campus, Community Beer Works, a local nanobrewery, has a booth at the market where it sells growlers of it's IPA and  "The Whale," it's brown ale beer.
"A lot of people seem to agree that this market is more about building a community than it is about being a vendor. It's only out second year doing the market but I can see that. We are a Buffalo brewery selling to the people of Buffalo," said Ethan Cox, brewer.
It costs $12 to fill a growler and $4 extra to purchase a new one.
In addition to vendors, the market also provides charities and non-profits a way to reach out to the community. Three or four musical acts and occasional cooking demonstrations happen throughout the day as well, providing entertainment for the customers and vendors alike.
The market runs until Dec. 21, when many of the vendors will move indoors to the west side's Winter Market at Horsefeathers on Connecticut Street.
Adrienne Boudreau can be reached at [email protected]
Leave a Comment