This 1997 story in The Record documents the decades-long fight against the commercialization of Elmwood Village
A majority of members of the Elmwood Village community have long been against the establishment of structures that would potentially disrupt or change the area's atmosphere.
Today, many are protesting against developers like Chason Affinity Co. and Ciminelli Real Estate and Development Co. who plan to build large multi-use complexes in Elmwood Village.
Twenty years ago, the fight was one against a national coffee chain.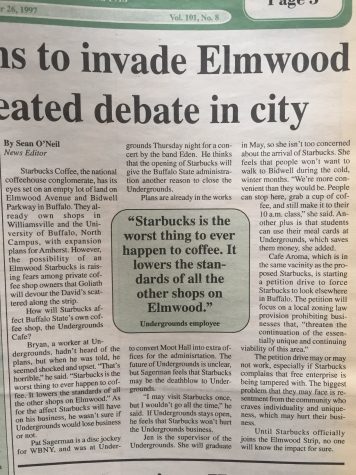 Love your morning Starbucks? According to a 1997 story in The Record, many were not a fan of the chain "invading" Elmwood Village.
One anonymous employee of Undergrounds Cafe, a potential rival of Starbucks at the time, said "Starbucks is the worst thing to ever happen to coffee."
Caffé Aroma also started a petition to keep Starbucks away, saying it would "threaten the continuation of the essentially unique and continuing viability of the area."
Decades later, Caffé Aroma and Starbucks are both still in business just a few blocks from each other.
email: [email protected]