Q&A: From Carnegie to Rockwell, new trumpet instructor finds comfort in every hall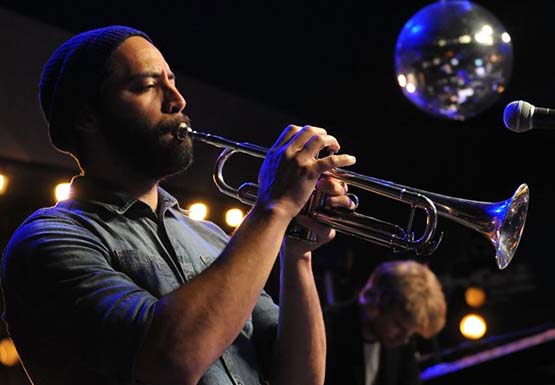 Kyle Resnick is a new trumpet instructor from New York City who's played in some of the world's most famous concert venues and found his way to the Elmwood Village and Buffalo State's music department.
I caught up with the busy musician to ask him a couple of questions. For more information, you can check out his website at kyleresnick.com.
How did a New York-based trumpet player end up teaching at Buffalo State?
My wife was offered an excellent job in Buffalo and, after discussing whether or not we should make the move, we decided that we were ready to make the big change. It is something we are both happy and excited to be able to do.
As a newcomer, how do you like Buffalo?
I am totally loving Buffalo. Living in New York City for the last fifteen years, this certainly is a big but welcomed change. I loved living in New York City but the expensive and cramped lifestyle can be tough and isn't for everyone.
You've played at many different venues, including Madison Square Garden. What's it like to play in such famous places?
Each place has its own vibe and spirit. MSG is very different from the Hollywood Bowl, and both of those are extremely different from Carnegie Hall.
I like to show up early and walk around the buildings looking for different places to warm up before shows. I end up finding amazing spaces in which to practice, like giant elevators the size of semi-trucks, or old basements with historical relics from past concerts and events.
I usually end up meeting interesting folks who work at these places and they often have fun stories about other people who have performed there before.
As for actually playing the shows in these great places, just knowing I am performing on stages that have been graced by musical legends before me is an exhilarating and nerve-wracking experience. (The nerves) usually make the shows better.
You've appeared with various Broadway shows. Which was your favorite?
I love Classical music, and the Broadway shows that I've enjoyed most are the ones for which the musical scores were based on pieces written by Classical composers, like Puccini's La Boheme and Tchaikovsky's Swan Lake. My favorite would have to be Swan Lake, for its incredibly fun trumpet part.
What's your favorite song to play on the trumpet?
Ooh, that's a tough one. So many.
We play one at the end of most concerts with The National, called "Vanderlyle." It is a real soulful tune. With the band Beirut, it's probably "Postcards from Italy."
Another favorite is a beautiful lyrical solo from the second movement of Respighi's "Pines of Rome." The things I most enjoy playing are melodies where the trumpet gets to sing like the human voice, but I also enjoy playing powerful and aggressive fanfares. I guess it depends on my mood.
You earned your Bachelor of Music degree at Indiana University and your Masters Degree in Trumpet Performance from the University of Michigan. How did your education help you to become the trumpet player you are today?
I took advantage of my education as much as I could, practiced hard and learned to put my nose to the grindstone to get things accomplished. I had amazing trumpet teachers, who served as mentors for me. I also worked closely with my peers–other trumpet players and instrumentalists — in the school ensembles and in my own free time, playing chamber music and duets and practicing together.
When I got into the "real world" of playing as a professional musician, the work ethic and professional standards I had learned in school helped set me up well for one of (my) most intense learning experiences.
What are you going to teach Buffalo State trumpet players?
Two things:
First, as I've alluded to, the big "open secret" to musical success is hard work. There are lots of musicians all over the world who are making it work and the one thing every successful trumpet player, musician or basically any (successful person) have in common is that they have worked very hard at something. I believe accountability is crucial to realizing this, so I have my students actively keep track of their work.
The other, perhaps more important, aspect of what I aim to teach is simply finding and expressing the love and joy in making music. Any person who can find that within themselves and channel it through the physical medium of their instrument, whether it be the voice, a violin, piano, trumpet, etc. is a true musician.
What do you hope for the future of Buffalo State's music program?
Buff State's music program is in an exciting period of change and growth. There has never been a time at this school where more valuable musical resources were available to its students. I am happy to be a part of this transition and hope to see instrumental music and ensemble playing become an even greater part of the Buff State Music experience. Making music at a high level is one of the most meaningful things a future musician or teacher can do.
Colleen Young can be reached by email at [email protected] or on Twitter @LiveWithColly.
Leave a Comment