Orchestra blends college with community, creates diversity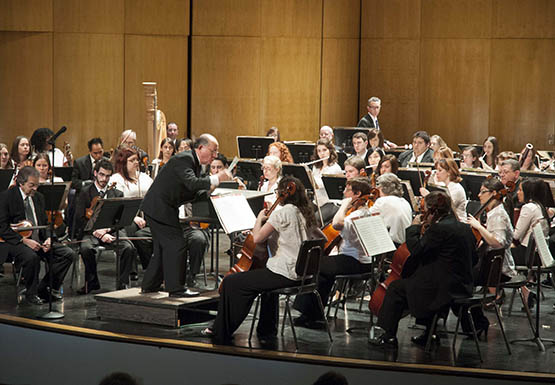 In the fall of 2008, Buffalo State's music department decided it was missing something. There was no orchestra for string musicians to be a part of, yet students were being accepted as string music majors.
So the department received an accreditation with a goal to bring an orchestra to life in the fall of 2009 for violin, viola, cello and double bass players. That orchestra is now known as the Buffalo State Philharmonia.
The Philharmonia contains 65 members — Buffalo State music students, post-collegiate musicians, community musicians and members of the Buffalo Philharmonic Orchestra alike. Auditions were held in August. Every student was required to audition even if they have been part of the orchestra previously because conductor Paul Ferington felt they needed to be familiar and get used to the audition process.
The department committee chose Ferington, a former Buffalo Philharmonic conductor who also has 12 years of experience conducting a community orchestra in Niagara County, to conduct the Philharmonia. He, and by extension the entire program, has high standards.
"Once you are a member of the Philharmonia, that means you are already a pretty good musician in the first place," Ferington said. "The level of playing is very high this year, not only for the new students, but also for the returning students."
That the orchestra is comprised of not only students, but also other members of the community, is a great advantage for the current students on the roster.
"We've got wonderful community folks who are all experienced orchestra players," Ferington said. "So our students get a chance to sit next to someone who is pretty experienced as an orchestra player."
There are three concerts — one in the fall semester and two in the spring — each with a separate theme. The fall concert's theme is "No-Calorie Suites," or collections of pieces.
It will feature works by Handel, Georges Bizet, Camille Saint-Saens and Edvard Grieg — not well known to the untrained listener, but principal violinist Emily Bauerlein believes Bizet's Carmen and Handel's Water Music will at least be recognizable.
Bauerlein is excited for the repertoire this semester. She knows a lot of hard work and preparation will go into creating this concert, and she is eager to work with her fellow musicians and to hear the results come opening night. She said practice is the simple key to performing well.
"What I do is find the challenging spots in the pieces and work through them slowly with a metronome, and gradually speed up to the concert tempo," she said. "I also listen to the pieces on YouTube to hear what our section is playing, as well as all of the other sections of the orchestra. It helps because you know what's happening around you."
Tatiana Brewer has been a member of the Philharmonia for two years. A student of Buffalo Philharmonic's principal flutist Christine Bailey-Davis, she has been working hard to prepare her parts, especially her principal flute solo in Bizet's Carmen Suite no. 1. This particular solo is a standard excerpt in flute repertoire, one that professional orchestral auditions require flutists to know, and she has worked on it for over a year.
"A solo instrument like the flute needs to be able to play any given section, exactly right on any given notice, and that is a lot of pressure," Brewer said. "However, if I plan out what I need to be thinking about at every point in the piece, it does not give me enough time to get nervous."
Simply learning the notes is not enough. Correct phrasing, style, and technique are all elements that go into preparing for a concert.
"This kind of thorough preparation takes dozens, hundreds, and even thousands of hours to perfect," Brewer said. "This is something that I will be working on for the rest of my life, just like every other current and past musicians in the world."
Teresa Leone, who plays trombone, has been a part of the Philharmonia since its creation and is proud of her place in the orchestra even as an alumna.
"The best part is being able to work with great musicians from the Buffalo community," Leone said. "Our paths are all a little different, but we all share a passion for playing music at a high caliber within this orchestra."
Leone is very thankful that she can continue playing with the Philharmonia post-graduation.
"As a former student, it certainly means a lot to be able to continue playing with an ensemble that has such diverse repertoire, talented musicians, and feels like a second home," Leone said.
Ferington feels very grateful to conduct this group and said it is an honor for this institution to have such a diverse group of musicians on campus.
"It's a very special group," Ferington said. "And I think Buff State is very lucky to have such a special group."
The first concert will be held Nov. 19 in Rockwell Hall at 7:30 p.m. Tickets are free with student ID. General Admission is $10.
Caitlin Kupiec can be reached by email at [email protected].
Leave a Comment