Bills need to bolster wide receiver position during offseason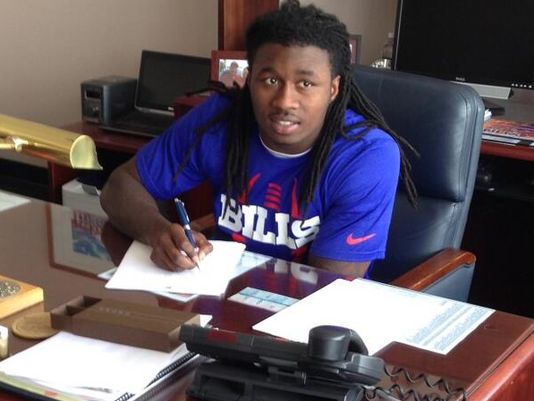 This is the second part of a series on offseason moves the Buffalo Bills would benefit from. 
The Buffalo Bills need wide receiver help, and the Bills need it now. Sammy Watkins is a stud, don't get me wrong, but he's gotten injured more times in his three-year career than Peyton Manning did in 19 years. In the 2015 season, he proved he can be a top-10 receiver in the league, posting over 1,000 yards and nine touchdowns in only 13 games.
But the Bills need someone else because Robert Woods is a free agent and will probably get offered more money from somewhere else to play. The rest of their depth chart is a bunch of no name guys: Justin Hunter, Walter Powell, Marquise Goodwin, etc. Buffalo needs a reliable number two.
Landing free agent Alshon Jeffery is a pipe dream right now — his price tag is likely too high considering the Bills' limited cap room. Pierre Garcon is a good veteran target to go after. Although he is 31 years old, he is still an elite route runner. He caught 79 passes for over 1,000 yards this past season. He should be affordable and would be the perfect compliment to Watkins (who draws a lot of attention from defense) and Goodwin might be able to get loose deep here and there.
Kenny Britt is another option the Bills should go after if something goes wrong with Garcon. Britt enjoyed his first 1,000-yard season in 2016 with an atrocious LA Rams' passing attack. He is 6-foot-3 with the ability to go up for jump balls. Having him and Watkins with Goodwin and Hunter as the number threes would be a suitable wide receiver depth chart.
And for those of you who know football, the troubled  but ultra-talented Josh Gordon is always an option.
They could always take a wide receiver with the No. 12 pick in this upcoming draft. Mike Williams is an option (who went to Clemson like Watkins). Although I believe there are better things to do with that pick, so stick with signing Garcon or Britt.
As mentioned, the Bills have the No. 12 pick in the draft. What should they do with that pick? Well, Buffalo just hired Sean McDermott, who is a defensive minded head coach, and this team had the fourth best defense in 2014. This past year, they were middle of the pack, although they have a lot of the players from the 2014 defense still.
The one big thing is Stephon Gilmore is a free agent. He is a very solid No. 1 corner. If they can't find the money to resign him, then they need to look elsewhere. Maybe it can be a Ross Cockrell, a former Bill, who will be cheap is a good pair with third year Ronald Darby.
If you wanted a more well-known name then Prince Amukamara is another guy to keep an eye on. Although if they rather go through the draft then Marshon Lattimore from Ohio State is the guy to watch Bills fans.
They could also trade the pick and move down in the draft, but acquire more picks later on which could find some gems in the later rounds. If one player starts to slip, their pick could become very wanted and when teams are desperate they offer A LOT (Rams, Washington Redskins in past drafts). So trading the pick should always be an option.
The defense will determine if this team can make the playoffs. The Denver Broncos have proved you don't need a great offense to win games or championships. The Bills have a great front seven with Lorenzo Alexander, Zach Brown, Shaq Lawson, Reggie Ragland (didn't play last year due to injury). Alexander and Brown are free agents, though. This is why Gilmore might take his talents elsewhere for more money, those two linebackers are more important than Gilmore.
Also, this stressed why they can use their pick to draft a corner. Also sign a cheap one in free agency. This way you can keep this defense solid and not have to spend that much money.
Tyrod Taylor, LeSean McCoy, Watkins, and either Britt or Garcon are just as good as that Broncos offense was in 2015. So with those offensive threats and a top-10 defense, the Buffalo Bills could make a run at the postseason for real this time.
The 2016-17 schedule isn't easy, but it is doable. The Bills could beat the New York Jets twice, split with the Miami Dolphins and New England Patriots and then win your home games.
Every year, the Bills say, "This is year, we are making the playoffs this year." Then they always end up going 6-10 or 8-8. This year could be the year, though, if they are smart about what they do. Keep your own guys, don't overspend, draft the right player — which isn't always the best player .
Just be smart.
email: [email protected]