McCullough an impactful presence in first season with Bengals
It didn't take long for sophomore D-II transfer Princella McCullough to make an impact in her first year with the Buffalo State women's basketball organization. 
Game one against the Medaille Mavericks, McCullough opened eyes with a double-double of 17 rebounds and 12 points. But one game is one game. Game two against Cazenovia: 20 points and 19 rebounds. Game three vs. Nazareth: 19 points and 16 rebounds. McCullough quickly became a double-double machine.
In her first season as a Bengal, she turned in 11 double-double games.
But coming into Buffalo State, she was a 6-foot-2-inch unknown sophomore forward coming from Mansfield University, a Division-II school in Pennsylvania.
"I came to Buffalo State because when I visited, it seemed like a really good program and it's close to home, so it kind of just fit everything I was looking for," said McCullough, who hails from Rochester via Bishop Kearney High School.
"I liked it a lot. It was very welcoming," she said. "I had a lot of people helping me out and I like my professors a lot, as well."
But the recruitment process for Buffalo State Women's Basketball Head Coach Kevin Clifford wasn't that difficult.
"She emailed me. There's a protocol we have to follow, things we have to go through in terms of paperwork and making sure of compliance," Clifford said. "She made the initial contact, and once we were able to contact her, she visited with her mom. We hit it off and she texted me saying she was coming here. We were excited."
And like any bond of a player and coach, it's a necessity that it is a good one. There are colleges all around the nation, the east coast and in Buffalo alone. McCullough liked Clifford's approach to the game.
"He is a really nice guy," McCullough said. "He has a lot of passion for the game. He really cares about his players, and I appreciate that, because sometimes a lot of coaches are there to just coach, to get the money. But he actually really does care about all of us."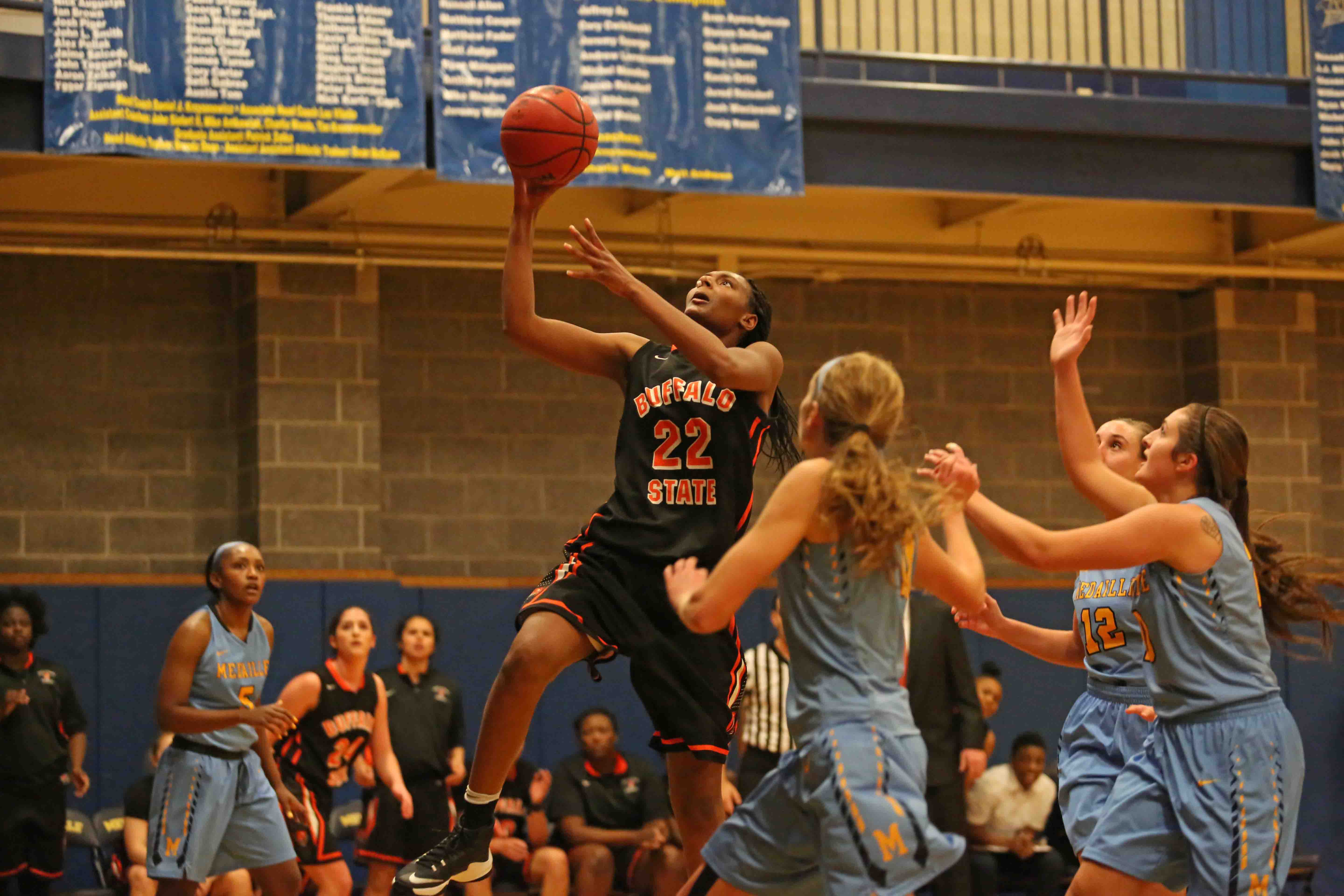 The hardwood has a special meaning for McCullough. The feeling of having a basketball and four teammates is her therapy.
"The main thing I love most about basketball is it's like therapy for me," she said. "Whatever is going on, I know basketball is going to make me happy and I'll get my stress out there. It's like a stress reliever, I love it."
Princella McCullough was able to average a double-double this past season, averaging 11 points and 11 rebounds in 30 minutes. Though statistics are only numbers — a team record means much more.
"(Stats) don't mean a lot to me, because I know we can do better," the sophomore admitted. "We haven't been winning as much, so I feel like there's more that I can bring to the table to get us more wins. I feel like if I can do better, we can do better as a program as well. I look at the shots I'm missing, turnovers, things like that, always trying to improve."
And all year long, the one thing that is for certain is the impact she makes in the paint. Eighteen times out of 22 games, McCullough led the Bengals in rebounding, and half the games she was the force down low that guided the Bengals in blocked shots.
McCullough had 34 blocked shots to end her 2017 campaign.
"She is a big presence inside, being 6-foot-2," Clifford said. "She's long, athletic, able to block shots. She's hard to guard and very good defensively. We just have to work hard on consistency. She's probably our most consistent player the last few games."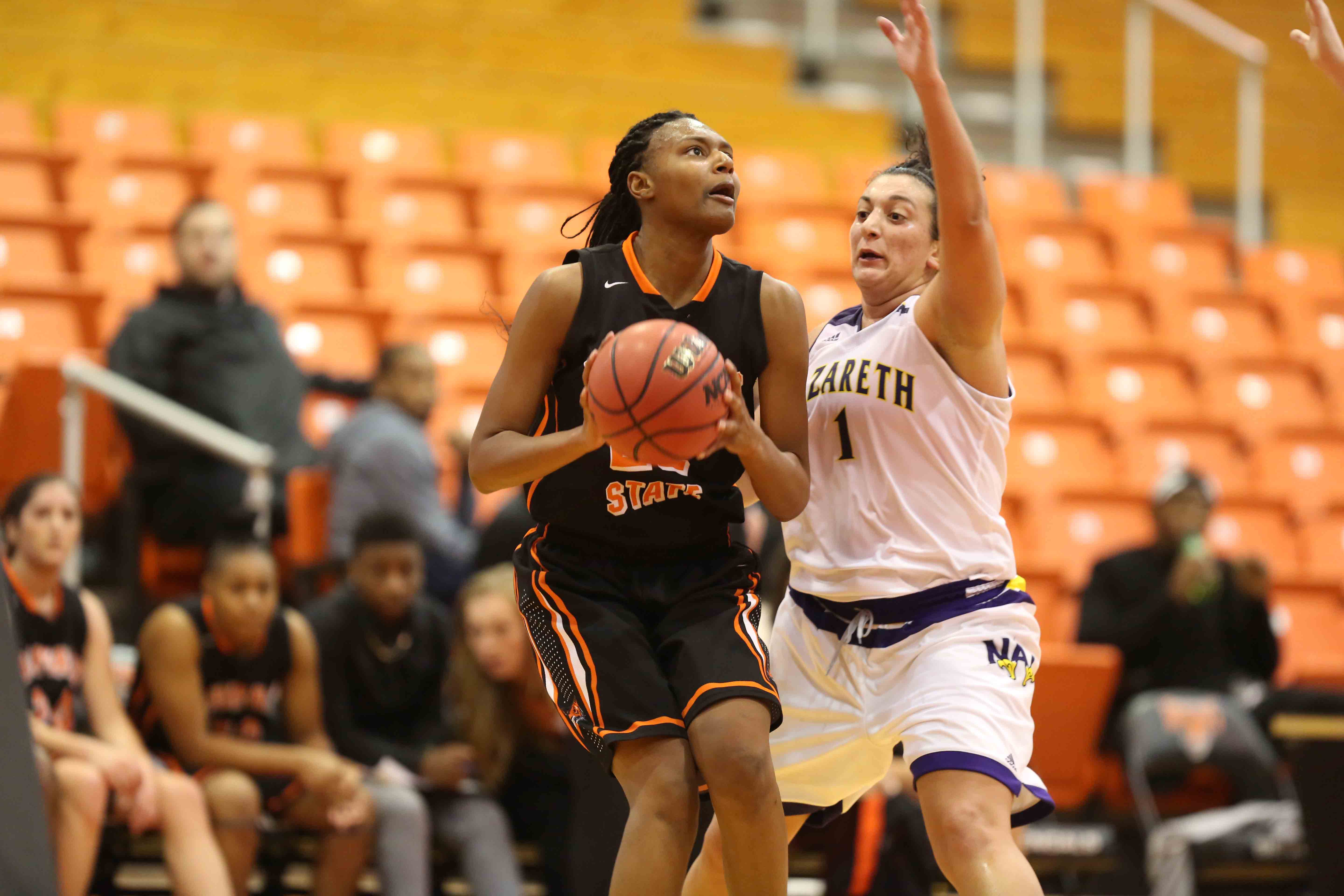 Though the one thing that could be seen from the box score is the inconsistency. Grabbing a lot of rebounds is a product of high basketball IQ and being in the right spot at the right time. But getting shots to hit the bottom of the net is pure skill.
So what will make the soon-to-be-junior a consistent double-digit scorer?
"You just have to stay in the gym. You have to have your mind on it," McCullough said. "Once I have my mind to something, I can just keep doing it. It takes a lot of hard work, it's not just going to come to you, and I have good people around me who are motivating me as well. It's not just all me."
Basketball is a team sport. The game doesn't end once the final horn goes off. The team meets in the locker room or the Campbell Student Union after the game. It's a unified group.
A team requires good chemistry to thrive. 
"All of them [are my best friends]. I have a different relationship with each person on the team. There's Caleh (McLean), Grace (Licata)," McCullough said. "I love everyone on the team; I have no specific best friend on the team."
She has many role models, but there's one role model who sticks out more than others. It's someone who shares both her genes and love for the sport. 
"My cousin, Shanice Johnson — she actually plays for the Indiana Fever. She actually doesn't know that she's my role model," said McCullough with a grin from ear-to-ear.
"I don't get to see her that often because during her off-season, she plays overseas," she said. "But, when I do get a chance to spend time with her, it's always fun. She always teaches me a lot, just about life in general, about basketball; she was able to come to one of my games earlier this season and taught me about stuff I need to work on.
"I'm very grateful to have someone that's in her position to be showing me things like that and we have a lot of family gatherings, so we get to talk a lot about basketball and life. She teaches me a lot of stuff without even knowing that she is doing that."
McCullough attributes her success on the court to something greater than herself. 
"I have a strong relationship with God," she continued.  "My grandfather is a preacher, so I grew up in a church. I pray a lot. Any success I have comes from God; I know that. I wouldn't be able to have the stats that I have if it wasn't for Him. I wouldn't be in school if it wasn't for him. I wouldn't have the support system I have if it wasn't for him."
The 2016-17 record wasn't what the Bengals had hoped at the outset, but the development of several key players — including McCullough — is a sign that the team could make strides in the near future.
"She's a great kid. She's in the gym, she's working out and she wants to get better. She's only a sophomore. Her grades are good. She's willing to learn, wants to learn. She's a good kid," said coach Clifford. "I have high expectations for her."
email: [email protected]
Twitter: @E_Rodriguez_24