Bengals repeat loss to Oswego with nearly identical scores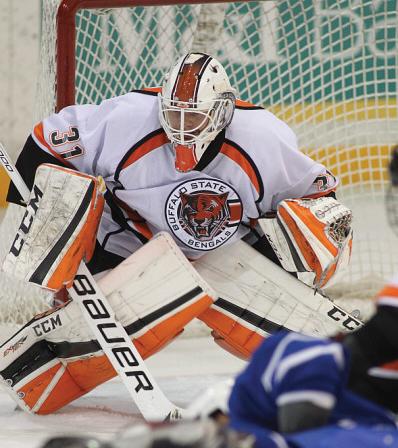 History repeated itself on Saturday as the Buffalo State Hockey Bengals fell to Oswego 6-2 in the SUNYAC tournament semifinals.
It was reflective of last Saturday, Buffalo State lost to Oswego 6-1.
To open the game, Mike DeLaVergne showed why he was named the 2017 SUNYAC Goalie of the Year stopping all 15 shots.
The Bengals didn't get much of anything going as they had only four shots on goal in the first 20 minutes.
After a scoreless first period, both offenses went to work. The Lakers opened the scoring as Kenny Neil stood in front of the net and somehow put it in the 5-hole. The Bengals responded right back as Zach Nieminen took advantage of Oswego goalie Matt Zawadzki as he lost his stick to tie the game at 1-all. Michael Guerrera and Brody Power assisted on the goal.
Anthony Passero went to the box for slashing with 3:30 to go in the second period. Oswego took advantage as Shawn Hulshof got the puck right off the faceoff and drilled it in the net. The goal gave the Lakers the 2-1 lead at the end of the period.
Oswego got to work right away in the third period. Hulshof knocked in the rebound off a Joey Davies shot to give the Lakers the 3-1 lead just a minute into the period. The Lakers put the game away as Chris Raguseo sent a beautiful pass to Alex Botten in front of the net to give the Lakers the 4-1 lead.
Later on, Neil threw the puck in front of the net and Mitchell Herlihey knocked it into the open net for a goal. Chris Waterstreet added another with a wrister from the circle for the Lakers' sixth goal of the game
The Bengals added one more on the power play. Brody Power found Jon Colley on breakaway to bring within Buffalo State four goals with less than four minutes to go.
Goaltender DeLaVergne stopped 36 of 42 shots in likely his final game as a Bengal.
The Lakers will face Plattsburgh in the SUNYAC championship next on March 4. Faceoff will be at 7 p.m. in Oswego.
Buffalo State still has a shot at an at-large berth in the NCAA Division III Men's Hockey Championship tournament, but not making it to the SUNYAC final makes their chances very slim.
The Bengals likely ended their season at 18-8-1, the winningest season in school history.
Buffalo State will graduate DeLaVergne, Jake Rosen, Anthony Beaumont, Nick Berst and Darren Young.
Email: [email protected]