'Get Out' finds Jordan Peele tackling something unexpected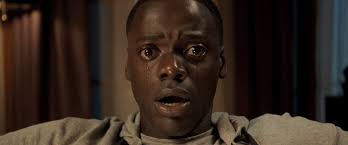 I do not believe our generation has had the pleasure of seeing a "socially relevant" horror film.  I don't even recall a film that was deemed socially relevant that wasn't a fleeting memory.  But something tells me that Get Out will outlive its zeitgeist-y plot in lieu of a memorable, thrilling horror-comedy.  It's one of the best movies we've seen this still-young year.
One thing that you can never say about Keegan Michael Key and Jordan Peele's surprise-hit sketch comedy show Key & Peele is that it was stupid (immature is a different story).  Since its debut in 2012, the show has been praised for its intelligent writing.  The popularity of the show led to the inevitable duo making their comedic feature debut with last year's mildly entertaining Keanu.  Although a minor success, nobody would have guessed that half of the duo (Jordan Peele) would go on to make one of the most original and creative horror movies to date.
Taking obvious inspiration from social problems and various horror films, Get Out is a smart, funny, scary, well-acted, wonderfully photographed intense film that will deliver anything you want out of a film and leave you thinking.
Its base premise is a mix of Guess Who's Coming to Dinner? (1967) and The Stepford Wives (1975).  Black man Chris Washington (Daniel Kaluuya, Sicario) is going to meet his white girlfriend's (Allison Williams, TV's Girls) parents for the first time (played by Bradley Whitford, Other People, and Catherine Keener, Unless).  The parents live in a secluded suburb and have two helpers who both happen to be Black.  From here, something eerie is going on which clearly involves how upper class white people view and handle black people in a high-end suburb.  I can't give away what happens; it's too fun when it is revealed.
Writer-Director Jordan Peele clearly knows his horror movies, and knows how to pay homage to films in general.  Besides the two films responsible for its plot, there is homage to Rosemary's Baby (1968), Being John Malkovich (1999), Ingmar Bergman's Persona (1966), and Hitchcock films, just to name few.  There's moments that will make you laugh hysterically, one of which involving the ineptitude of the police in the face of a Black man.  Lil Rey Hawley (The Carmichael Show), who plays Chris' best friend, gets the most one-liners and jokes, but he delivers on all of them and is the perfect foil to reveal what he believes is going on (it's kind of ridiculous).
Get Out is a slow-build type of movie.  Do not expect one hundred jump scares per second, and you wont' be watching the movie through splayed fingers.  But it is the most entertaining horror film you will see this decade.
email: [email protected]