Grab your skis and drink a brew at Brewski, strip down to your bedroom best for Cupid's Undie Run with Step Out Buffalo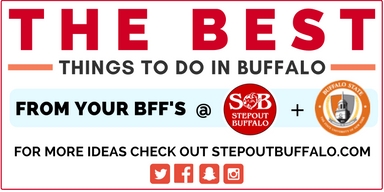 FIRST ANNUAL BREWSKI 
This Saturday from 12:00-3:00 PM, 42 North presents the 1st Annual Brewski at Knox Farms State Park! Grab your cross-country skis, snowshoes or whatever else will help you travel through 2.5mi of snow with multiple beer stops along the way! Presale registration for this event will be on the Healthy Zone Rink of EA website, www.thinkrink.org/news/ and is $20. Day of registration will be $25 at Knox Farm.
CUPID'S UNDIE RUN
This mile(ish) run in your "bedroom best" attire is this Valentine's Day weekend! On Saturday, Feb. 18, festivities start at noon, then we run/dance around the streets and come back for post-race festivities and awards ending at 4:00 PM at Big Ditch Brewing Company. No, we're not crazy, we're just crazy serious about raising money for The Children's Tumor Foundation! Neurofibromatosis (NF) is a genetic disorder that causes tumors to grow on nerves throughout the body, causing blindness, deafness, learning disabilities and severe chronic pain. The Children's Tumor Foundation is the world's largest non-government organization dedicated to ending NF through research. Currently, there is no cure for NF and there are frighteningly few treatment options. NF affects roughly 1:3,000 births in the U.S. and CTF is in desperate need of new discovery, so we're on a mission to #EndNF. All proceeds benefit the Children's Tumor Foundation. You already know we run to raise money for CTF and kick NF in the butt. But why do we run with our butts out? It's simple. We run in our undies because people with NF can't cover up their tumors. They can't put clothes on to feel more comfortable, so why should we? Register to run at my.cupids.org!
SUNDAY FUNDAY
Looking to turn up this Sunday night? From 6:00-11:00 PM at Mohawk Place in Downtown Buffalo, FTMP Events presents Hip Hop Fest 2017 featuring  No Ceilings Entertainment, LumberJackMatt, Shanta Fanta, Da Villy Kids and more! Doors open at 6:00. Tickets are $7.00 pre-sale, $10.00 day of show. This event is 16 and up ONLY. ID is required. 
OUTDOOR SHUFFLEBOARD TOURNAMENT
Test your shuffleboard skills and enter Resurgence Brewing Company's Outdoor Shuffleboard Tournament, taking place Saturday from 12:00-5:00 PM. They've built two new outdoor ice shuffleboard games for their biergarten, and they know you're itching to try 'em out! This is Buffalo; around these parts, we don't hide from winter – we embrace it!
For more on all of these ideas and more head to stepoutbuffalo.com/buffstate