Hope's offseason detour leads him to racetrack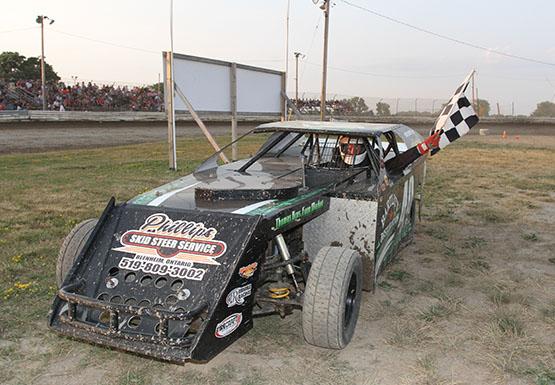 Summer vacation for college students usually means one thing: relaxing.
The summer is a time to kick back, relax, and take a breather after a long, busy school year.
For Brett Hope, a sophomore forward on the men's hockey team, summer vacation means something completely different. When he goes home for summer, it means he can finally get back to the racetrack.
Hope races in the mini-mod division at the South Buxton Raceway in Merlin, Ontario. The dirt racetrack provides Hope with the opportunity to get his mind off of school and hockey when he's home on vacation.
"I think it helps me in that when I come back I'm focused and ready to go," he said. "I think it helps me just relax away from hockey, and when I come back it's way easier to just get back into it. I'm not worn out."
As a Canadian, one might expect Hope to be playing hockey year-round. But, he said, growing up in a small, rural town, racing and motor sports were a part of the fabric of his childhood.
Hope grew up in Blenheim, Ontario, about three hours west of Buffalo. Blenheim has a population of just under 5,000, so Hope said he and his brothers would keep each other occupied by competing against each other in every way imaginable, including racing.
"We lived on a farm back home, and it was always dirt bikes and go-karts," he said. "It was always the competitiveness that came into it with my brothers."
From there, Hope started to get more involved, helping his dad, brothers and other dirt track racers whenever he could, until he finally got his own car five years ago.
Since then, he's been racing every summer. This year, he finished ninth out of 25 racers in his division, including a handful of top-five finishes.
Elliot Wilton, a friend and fellow racer in the mini-mod division, said that he's seen constant improvement from Hope on the track over the last five years.
"Ever since he got his mini-mod a couple years ago, he seems to always be improving, and he's pretty much a consistent front-runner," Wilton said. "He's always there in the top five in the mix somewhere."
Now back in school, Hope's focus shifts back to classes and hockey. Although there might not be any obvious parallels between the track and the ice, Hope said he draws on his experience from both sports to help keep himself calm.
"I think I'm pretty good at controlling myself in a big game, I just stay calm and I think that helps me in racing," he said. "(If) you get a caution late in a race and I'm right there, I don't get all fired up and over-drive or anything, I just stay calm and just do what I've been doing all race."
For the hockey team, Hope is expected to be a consistent contributor after having a solid rookie season.
He had four goals and 13 assists as a freshman, good for fifth on the team in points. Hope also contributed on the penalty kill and power play units, something assistant coach Jeremiah Crowe said made him a valuable asset.
"Last year we were real happy with him," Crowe said. "Whether he was on the first line or fourth line, he could find a way to contribute."
As for his experience racing cars, Crowe said he anticipates the experience will help Hope's growth and development on the ice.
"I think its good that he has another interest other than hockey that he can get away from it, dedicate time, and work towards. When guys typically have things like that, I think it helps them hockey-wise as well."
Chris Dierken can be reached by email at [email protected] You can follow him on Twitter @cdierken.
Leave a Comment