Get high (aerial flying classes), low (shop 'til you drop) and drunk (ok, this one is literal) with Step Out Buffalo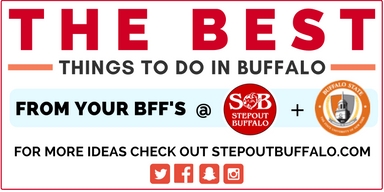 Aerial Flying Class? Say what?!
This class is said to increase your kinesthetic awareness for better agility, build core strength, elongate your muscles and get a low-impact cardiovascular workout while suspended. During Aerial Fly you'll "decompress" which includes zero-compression inversions, aka going upside down. Don't worry, you invert only if you are comfortable doing so. As much fun as this sounds, it's actually not as easy as it looks! Take our word for it and try it out for yourself at 904 Elmwood Ave at BikeOrBar! If you simply can't get enough of this awesome class, well you're in luck! This class runs Monday–Friday 6am-8:30pm and Saturday–Sunday8am-1:30pm. Tickets can be purchased through the website and are $8 for first class and $13 for a single class after that.
Winter Brew Fest… Cheers!
Of course winter seems like it goes on forever in Western New York. The cold and snow we experience here is like no other place on earth. So come and warm up with us at this year's Winter Brewfest at the historic Tonawanda Castle on Friday February 3rd. Enjoy great local live music while sampling great local and up and coming craft beers from all over the country. This year's event will run from 6pm-10pm. Tickets are only $45 and are limited to 700, so do not delay! This event will sell out!
Shop 'til You Drop
The rapidly changing weather around here is a completely legit excuse to spruce up your wardrobe! From the Buffalo Waterfront to the new-and-improved Theater District to artsy Allentown, there's lots of local love to be shared. There are more than a few places we recommend checking out on your next shopping spree! With the waterfront just steps away, Red Siren has a prime location in the HarborCenter. Inside this specialty retail store, you'll find Buffalove gear, seasonal women and men's apparel, locally-made jewelry, and an assortment of home gifts. Some must-grab items include hand stamped rings, S'well bottles (yes, the big ones hold an entire bottle of wine), hats, t-shirts and hoodies to help support your fav WNY sports teams. With that being said, check out our complete list of the cutest local shops on our website!
Superbowl Sunday Party
Looking for the perfect place to watch the Superbowl this Sunday? Rocco's Wood Fired Pizza located at 5433 Transit Road, is hosting their 2nd Annual Superbowl Super Football Party! With a $30 ticket purchase you receive a buffet of our favorite game day foods, drink specials all night long, prize drawings throughout the game AND a chance to win an iPad Mini! Starting at 5:00pm, don't miss one of the best Superbowl parties around!