Five-game winning streak snapped in 2-1 loss to Plattsburgh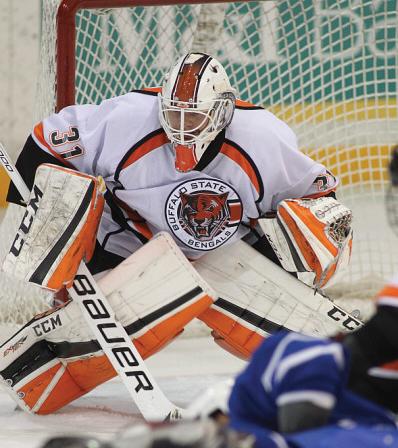 That's it folks, the streak is over.
The five-game win streak for the Buffalo State men's hockey team (13-4-1, 5-3-1) ended Friday night as the Cardinals defeated the Bengals 2-1 in Plattsburgh in SUNYAC action. The Cardinals handed Buff State its first loss since Dec. 9.
The Bengals came out slow to start the first period, and it cost them as Ayrton Valente and Gavin Yates found Brady Pfaff to give the Cardinals the first score of the game. Plattsburgh controlled the game, preventing Buffalo State from getting anything going offensively. The Cardinals outshot Buffalo State 2-1 in the first. Before the period came to an end, Plattsburgh Joe Drabin set up a screen in front of the net. After a shot from the point, Drabin found the puck and buried it home for the 2-0 Cardinal lead.
In the second, the Bengals started to pick themselves up and began to close the large shots on goal differential. Buffalo State finally had some life halfway through the period when Brody Power had a great chance with an open shot in the lane. But, Plattsburgh goalie Brady Rouleau came up with a big glove save.
The Bengals got on the board when it took advantage of some confusion in front of the net. Rouleau thought he had the puck, but it came free and Roberts Smits found Anthony Beaumont who blasted a shot by before Rouleau figured out what happened.
Buff State goalie Mike DeLaVergne made a big glove stop of his own on the penalty kill with less than a minute left in the second period.
The Bengals had four power play opportunities after the goal but could not convert.
Not helping the Bengal cause was Taylor Pryce, who committed three penalties. Pryce had a chance to redeem himself with 5:30 left. But after a pass made it through two Cardinal defenders, Pryce had an open chance in front of the net that went off the crossbar. Buffalo State took five penalties in the loss. The Cardinals outshot Buffalo State 33-24.
The men's hockey team will be back in action Saturday as they head to Potsdam for a 7 p.m. faceoff with the Bears in SUNYAC play.
email: [email protected]