Take the Buffalo Bucket List Challenge, get Insta inspo from Step Out Buffalo
Your BFF's at Step Out Buffalo invite you to take their Buffalo Bucket List Challenge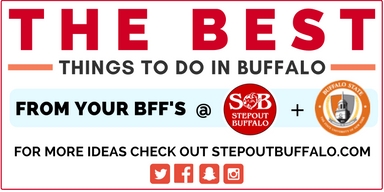 Take the Buffalo Bucket List Challenge – What better time than the New Year to start checking things off your bucket list, amirite? Here's how it works: Each week on StepOutBuffalo.com we'll post an idea of something to try in Western New York. Then, you go out and do it and have fun. Easy peasy. AND if you post photos of you doing the activity on Instagram and tag @stepoutbuffalo and #stepoutbucketlistchallenge, you can win cool stuff. Boom goes the dynamite~
Switch Up Your Lunch Game – Tired of the same ol' PB&J sandwich situation every day? Same. That's why we rounded up a list of the 17 best spots for lunch in WNY. From wings at Bar Bill Tavern to the Blackthorn's Food Network signature dishes to burgers at Juicy Burger Bar to Banh Xeo at Pho Dollar, there really is something for everyone and their lunch pallet 'round these parts.
Up Your Instagram Game – Remember #hashtagstepoutbuffalo? Aka the greatest hashtag ever (yes we think we're funny) / what we use to find and feature your photos? Well, get ready to get some major Insta inspo in your life, because we've gone through over 15,000 of 2016's #hashtagstepoutbuffalo photos to find the best of the best for your viewing pleasure. You're welcome.
Head to a January Event – Pop quiz: Did you know there are over 20 awesome events happening in the area this month? The Ice Wine Fest in Canada, Sausage Fest at Rusty Nickel, Lumagination at the Botanical Gardens, Winterfest at Chestnut Ridge, and not one, but TWO Soup-based festivals are all going down and then some. The more you know.