Presidential search committee to be formed in near future
Replacing Podolefsky will be no easy task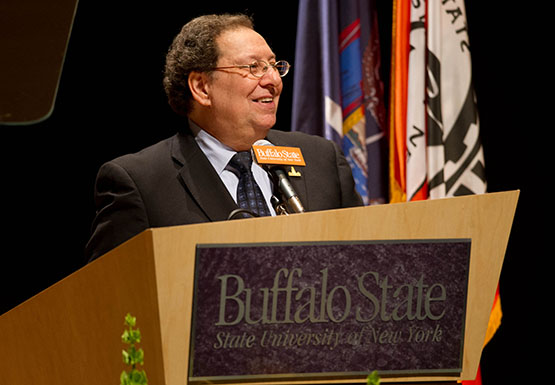 Within the coming weeks, a search committee will be formed to appoint Buffalo State's next president. Howard Cohen is currently functioning as president on an interim basis after former President Aaron Podolefsky passed away in August.
SUNY policy lays out specific guidelines for public schools to follow in the event that a new president is needed. Howard Zemsky, chair of the Buffalo State College Council, will be making an announcement soon detailing the plans for the search. Zemsky has an image of what the next president should be like that resonates with the SUNY guidelines.
"For a college our size, you really want to see a successful track record," Zemsky said. "Someone who can relate to faculty and students, and administrators, because they have demonstrated a long career of success in those types of interactions and positions."
Buffalo State demands some specific qualities in a president.
"For Buffalo State, you're looking for someone who shares our values," Zemsky said. "Premium quality education, and emphasis on teaching, service and learning, community activity, student success, applied research, things of that nature."
He went on to say, using Podolefsky as an example, that he is sure the next president will have "a good head and a good heart."
Before any potential presidents can be considered, a search committee must be formed. Zemsky said that a committee would consist of faculty and staff representatives, representatives from administration and foundation, the alumni association, students, and representation from a union.
"SUNY prescribes, and we agree, with a broad representation for a search committee," Zemsky said.
A search consultant will help the committee recruit potential applicants, as well as evaluate them.
SUNY policy outlines the process by which candidates are chosen, and the president is selected. The presidential search policy states that the vacant position should be advertised nationally. After applicants are interviewed, five prospects will be chosen to visit the campus.
According to document 8400 on SUNY policy, "Campus visits are designed to allow a large number of campus and community members to meet and hear from each candidate."
During the length of the campus visit, the applicants will also be evaluated. A search process like this could take anywhere from six to nine months.
"We've been through this recently," Zemsky said, referring to the search that resulted in Podolefsky's presidency. "We had a very comprehensive search process only four years ago. I think that process was viewed favorably on campus."
Buffalo State is looking for a president who goes above and beyond their call of duty, like Podolefsky did.
"Our future president would be a person with a lot of integrity, ethics, and would represent decency," Zemsky said. "… I am sure our next president had (and will have) a good head, and a good heart. I think that's important."
Policy governs that the search committee be formed when there is a foreseeable vacancy in the president's office, so Zemsky expects to form a committee in the next several weeks.
Andrew Manzella can be reached by email at [email protected]
Leave a Comment