Five-game win streak snapped in weekend split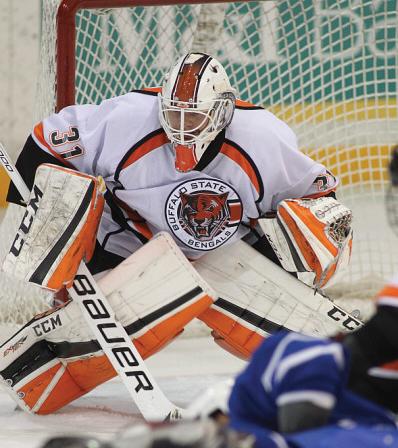 If you asked Bengals men's hockey head coach Steve Murphy before the season if he would be content with a 5-2-1 record at the end of November, he would have said yes.
With 13 new players including 12 freshmen, building team chemistry takes time, but the team is already starting to gel.
Buffalo State went 3-1 over the last two weeks with back-to-back games the last two weekends against the Canton Kangaroos and the Stevenson Mustangs.
"We're getting where we want to be. It's still a process. It will take some time. Last year, it took us the whole first semester to really get things going, but wins like these start to build belief and start to build momentum," Murphy said.
In the first game against Canton, the Bengals made use of traffic in front of the net with two goals scored off of tipped shots. They chased starting goaltender Michael Cerasuolo in the second period and won the game in convincing fashion, 4-0.
The next night was even more of an offensive flurry. The Kangaroos stunned the Bengals with a quick goal in the first period, but after that, the game was all Buffalo State.
Canton went to the box 14 times in the contest, resulting in a flurry of goals. The Bengal power play tallied scores from freshman forward Zach Remers, defenseman Brody Power and two from forward Mac Wood.
Wood and Power both had four-point nights.
"We were just putting pucks to the net, and picking up some rebounds. The fact that we got shots to the net really helped us this weekend," Wood said.
Power credited the special teams success to puck movement and execution.
"We're really starting to get chemistry now. Guys are starting to read off of each other and everyone is working as one unit, and that is why we've been successful," the team captain said.
On the back of that power play success, the Bengals pulled out a 6-3 win, going 2-0 against a young Canton team.
The following Friday was more of the same for Buffalo State as they cruised to a 7-0 win over Stevenson.
Junior defenseman Garrett Chardon got things started and recorded a second goal in the second period. Michael Guerrera, Anthony Passero, Taylor Pryce, Darren Young and Hugo Petit all scored in the game as well.
Canton and Stevenson are non-conference opponents with young teams that don't match up to SUNYAC competition, but Murphy emphasized not taking them lightly.
"We just have to stay focused. We hammer home that it's one game at a time. We got out to some quick starts and when you do that, you put doubt in other team's minds," Murphy said.
That lesson fell on deaf ears in a 4-3 loss last Saturday in the return matchup against Stevenson. The Mustangs used a four-goal third period to come away with the upset.
Mustang goaltender Jacob Caffery stood on his head for 42 saves against the Bengals.
Buffalo State once again had an efficient day on the power play, scoring twice and adding one shorthanded.
The Bengals beat Nazareth, 5-1, on Tuesday. Buffalo State will get back to their SUNYAC conference schedule with a game at Brockport on Friday, Dec. 2. This Saturday will be a showdown at home against a Geneseo team that knocked Buffalo State out of the SUNYAC playoffs last season.
email: [email protected]