Buffalo State alum sheds light on making time for rainbows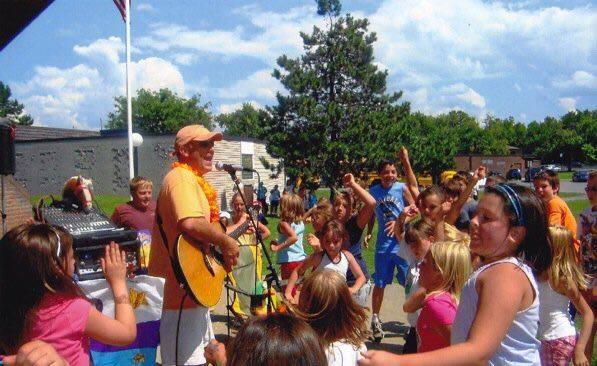 Mention the name Glenn Colton and many younger Western New York Millennials will recall fond memories of elementary school concerts filled with songs like "Mr. Ducky Wucky," "Another Brand New Day," and "Polka, Polka, Polka!"
Through his music, Colton has had a profound impact on Western New York communities, earning a spot in the Buffalo Music Hall of Fame in 2009. But some may not know that he was a two-time KanJam world champion (1991 and 1992) and special reporter for The Record.
Colton spent a total of five and a half years at SUNY Buffalo State. He graduated in 1985 with a bachelor's degree in business, returning after for three semesters to receive his teaching certificate.
During that time, he became good friends with some of The Record staff, hanging out in the office, reporting and even being featured in a "Photographer asks" section of an issue.
In the issue, the photographer asked, "Why are you here?" to which Colton responded, "I'm here to find myself."
"I guess on one level it was sarcastic, but in hindsight, I was going through a transition period in my life where I did kind of 'find myself.' I took a very untraveled path that kind of made me gratuitous," Colton, now 53, reflects. He says his quirky personality contributed to his answer at the time.
But Colton didn't just find himself once. About three years ago, he had to completely reinvent himself in a similar way he did as a younger man.
Around 2012, he began to notice a change in the general ability of elementary schools. They appeared to have less time for shows as more demands were placed on teachers and students in the classroom. The act of stopping what you're doing in the middle of a school day for a show was becoming obsolete.
Colton doesn't profess to be an education expert. However, he taught briefly, his wife, whom he met through performing, was a teacher, and many of the couple's friends are teachers. He even became good friends with a principal of one of the schools he regularly performed at.
The principal decided to retire after a long career, feeling like he did all he could do, according to Colton. But during his tenure, he shared a story with Colton:
"He said, 'When I was a teacher, and I'm in the classroom and I was in the middle of a lesson, and let's say, hypothetically, one of the kids would look out the window and see a rainbow. Well, I had the ability – and it was no big deal at the time – to stop what I'm doing, go and walk over to the window or go out the door and we could talk about that rainbow. Today, these teachers that I'm principal of have no time for extras like that.'
"That quote really reminded me that teachers are talented, yet there is so much information in the world and we're so connected that that personal experience that used to be written as teachers' handwritten journals is now standardized, digitized. They've standardized every molecule of existence to make everyone the same and to track every piece of data in the name of getting the most efficient educational experience as a kid. Unfortunately, in my humble opinion, I just think that at that cost, you have no time for rainbows."
In 2013, Colton embarked on his farewell tour. At 50 years old, he had to find a new job that had potential to replace the income he was making from shows.
Soon enough, he found that connecting with children and customers were similar. He became a sales consultant at a local car dealership and is now the top salesman there.
"In a way, that's my parallel," Colton said. "But in another way, it was completely unexpected because I truly thought that this niche [performing] was so unique for my personality and my reputation that it would last forever, and it didn't."
It seems as if this parallelism has carried on throughout his life. Colton was drawn to music at an early age. His father had a guitar in the house and started teaching him.
Colton's parents gave him the opportunity to take private guitar lessons, but when his family moved to Williamsville when he was in sixth grade, the guitar sat in the closet for a year, until…
"Until one day, I met a very professional man named Tom Lorentz, who, at the time, was a student teacher from a local college," Colton said. "He was conducting the band, I was a trumpet player in the middle school band, and I met him like we all did. On my free periods, I found myself just drifting down there to get to know him."
Meeting Lorentz was huge for Colton. He gave guitar lessons to Colton, teaching him about the performing aspect of guitar. Colton and Lorentz are still friends today.
"He's a great person," Lorentz said of Colton. "He does so much for so many people, he's so talented. I'm very proud of him. I see one of my students that has definitely gone on to inspire many great things in his life."
Colton nominated Lorentz to be inducted into the Buffalo Music Hall of Fame, which he was in 2012. Lorentz is now the vice president of the Hall of Fame and founder of Main Mobility, Inc.
Colton performed at bars near his grandparents' house in Long Island and bars in Buffalo for the better half of a decade. It was around this time that he became a two-time KanJam world champion.
He was good friends with a teacher, who doubled as his bandmate. His friends played this game with trash cans and a frisbee and eventually they patented and monetized it. Thus, the game of KanJam was born.
"I've been playing KanJam before it was even KanJam. I watched the whole thing develop," Colton said, mentioning that becoming world champion was just "icing on the cake."
Colton briefly moved to Key Largo, FL for work, but came back to Buffalo in 1993. That's when he had the idea of combining his business, music and teaching background into one.
From there, he had a musical career that he considers to be unique, rewarding and worthwhile.
"To be able to be in that moment when you are performing for a group an you are connected to those kids and you really feel like they're with you with a song you've created, with a message that you believe in, those moments, that for me was the magic," Colton said.
Colton's career seemed to end when a generation of kids grew older. His two children, now teenagers, were part of that generation. He never intended to play another show.
But, like other events in his life, Colton was presented with an opportunity to follow his dreams, just like the name of his first album. While he still has his car dealership career, he now plays shows at local schools on Wednesdays he has off as part of the Glenn Colton Comeback Tour.
"As long as I can physically lift the equipment, I would see no reason to stop," he said on a recent morning.
Although he isn't world champion now, Colton still competes in the KanJam World Championships. His teammate is now his son, and they consider making the playoffs to be their version of the Super Bowl. This past August, they made the playoffs.
As for the future, Colton wishes for kids to be given the same opportunity he had to pursue ideas.
"Listen to that voice, listen to that energy in your head and kind of trust it on some level," he said. "You've got to actually be realistic. You've got to start your way and you've got to do what you have to do. It's not all roses and fairytales, but you also want to make time and room in your mind for that voice, that energy, and kind of recognize it."
email: [email protected]
Twitter: @KatPoster