Anthro society event covers sci-fi phenomenon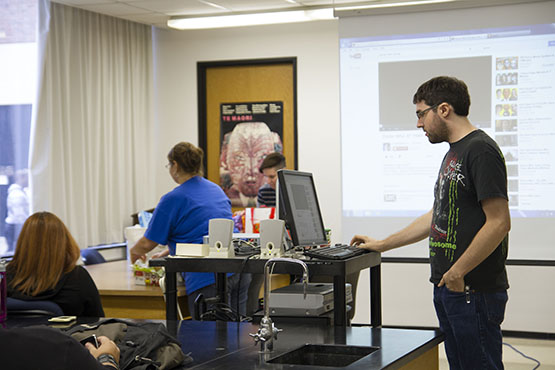 The point when a "man" with piercing black eyes, imprisoned in a room with 20 of the Queen's serving staff, transformed into a giant werewolf ready to pounce on and drain the blood of Queen Victoria, may have been the first time everyone in a classroom paid attention to an overhead projector screen.
Unfortunately for their grade point averages, this wasn't a class, but Buffalo State students still left the Classroom Building with a better understanding about the cultural phenomenon known as "Doctor Who."
The Anthropology Society hosted an open event Sept. 3 in the Classroom Building, featuring an episode of the Doctor and his gang getting into some trouble with a not-so-friendly furry friend on the Torchwood Estate in Scotland, set in the year 1879.
"Doctor Who" is a British science fiction television program produced by the BBC that depicts the adventures of a Time Lord, a time-travelling humanoid alien, known as the Doctor.
He explores the universe in his Time and Relative Dimension in Space, a time-travelling spaceship. To the common eye, it appears as a blue British police box, an ordinary sighting in Britain during 1963, when the show first aired.
Along with several companions throughout the series, the Doctor finds himself in some difficult situations while working to save civilizations, help ordinary people and right wrongs.
The show has rapidly spread across Europe and America. It is considered one of the most popular sci-fi shows of all time, in addition to being the longest running.
Matthew James, the president of Anthropology Society, has been a fan since the ninth Doctor, played by Christopher Eccleston — there have been 11 Doctors since its debut 50 years ago — and he has seen all of the new seasons ever since.
The Doctor's ability to travel anywhere, at any point, to any place in the world, is what captivates fans.
"My favorite part would have to be the excitement behind being able to go any place during any time period," James said. "The things we anthropologists could learn if we could do that."
Dianna Urbanski, treasurer of Anthropology Society, felt that "Doctor Who" is a relevant show to anthropologists and it was important to host an event like this.
"When most people think of anthropology, they think of archaeology," Urbanski said. "And we want to let people know that anthropology is actually a broad academic field that covers a wide range of topics. 'Doctor Who' is a phenomenon that has spread to cultures throughout the world, and because of that, it has anthropological significance."
The Doctor himself is a witty and likeable character, making him a popular protagonist in the eyes of sci-fi fans.
"I am a fan of 'Doctor Who' because it has great characters, the story line is full of action and comedy, and it makes me wish that there was a man in a blue box waiting to grab my hand and say 'run,'" Urbanski said.
Of the viewers in the room, most were getting their first taste of "Doctor Who," and they all left impressed with their first viewing. Erin Baccari, a member of Anthropology Society, was entertained from start to finish, without having watched a single episode prior.
"It's a show where you don't have to invest in every season to understand one single episode on its own," Baccari said. "I liked it."
Sabrina Sharrif, the treasurer of Anthropology Society, was new to the show too and proved that sci-fi shows hold common themes, making it easy to become a fan of one series if you like another.
"I am in love with the series 'Supernatural,' and it sort of reminds me of 'Supernatural' in a way, I guess," Sharrif said. "I enjoyed it."
James was pleased with the large turnout and said that the Anthropology Society is planning to make the "Doctor Who" viewings a recurring event once a semester, since its popularity speaks for itself.
The Anthropology Society hosts events Tuesdays and Thursdays from during Bengal Pause in Classroom Building B116.
Caitlin Kupiec can be reached by email at [email protected]
Leave a Comment