New instructor aims to create civic leaders of tomorrow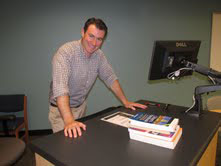 There's a new "big man on campus" who's a veteran, has worked for a Congresswoman, earned a law degree, and prides himself on being an amateur Scotch connoisseur.

Attorney and Olean native A. Peter Snodgrass has worked to develop a new course called PSC 389 Civic Leadership, which is preparing Buffalo State students for civic engagement.
The process began while Snodgrass was working as Kathy Hochul's project manager. There, he met Susan McCartney, director of the Small Business Development Center at Buffalo State. She thought of the Civic Leadership class and asked Snodgrass to instruct it. Together, they developed the curriculum.
As a newcomer to the Buffalo State campus, Snodgrass is impressed by all that the college has to offer so far, particularly the programs available through the Small Business Development Center and the Veteran's Affairs office. He is enjoying becoming part of the college and its surrounding neighborhoods, noting the advantages of being within Buffalo's borders.
"I really like that the campus is in the city," Snodgrass said. "Buffalo State is in a unique position to be a civic-minded campus."
He likes Buffalo's culture, even choosing to reside in one of its trendiest neighborhoods, Allentown, and enjoys the connection the college has made to its city.
"Buffalo State prides itself on being a Buffalo-centric community," Snodgrass said.
Snodgrass hopes that students will be able to come away with the tools they need for community organizing by utilizing critical thinking. As he instructs, he's encouraging future community organizers by providing students with the intellectual foundation to think critically about civic issues on the federal, state and local levels.
His desire is to continue this course every semester and he's currently working to develop a corresponding internship for students to work with community organizers.
Snodgrass knows a thing or two about American civic participation, as he often petitions for the Erie County Board of Elections and is involved with the democratic committee.
He understands the challenges of getting a college class enthusiastic about civic discourse; he was the "standard college kid" who partied a lot and didn't talk to his professors much before earning his degree in political science from Vassar College in Poughkeepsie, N.Y.
After college, he joined the Army, where he received the discipline that he needed. Snodgrass was enlisted as a combat medic and served from 2003-2008. He then returned home to pursue a law degree at SUNY Buffalo Law School, where he was serious about his education and graduated cum laude.
In law school Snodgrass grew close to an adjunct who worked with Kathy Hochul when she first entered Congress, which earned him a position as Hochul's project director from August 2011 to January 2013. He was also a liaison in her Williamsville office, working on economic development in the district.
When Hochul lost her re-election campaign last year, Snodgrass worked until early January of this year, and then immediately afterward began his career as an attorney at Collins & Collins Attorneys, LLC. He gained this opportunity through another connection: Michael Lancer, a managing attorney who Snodgrass met in Hochul's office.
When he isn't teaching students about citizen advocacy, Snodgrass also enjoys working out and watching what he eats in order to improve his mental and physical strength, a value instilled in him while he served in the Army. He likes classic rock and, most recently, electronic music, and attends church every Sunday.
Snodgrass wants students to leave his class prepared to make a difference in their communities with the tools he provided, but he also wants them to learn from his personal journey as well.
He's impressed with students who do extra and are involved, because they'll end up with connections similar to the ones he gained throughout his career.
Snodgrass advises students to create a 10-year plan, stick to it, and look closely at where they want to be at that point in their lives.
"Don't waste your years doing things that are unproductive toward reaching your goals," Snodgrass said. "In the end, we as individuals are responsible for ourselves to go after what want, recognize our shortcomings, and fix them.
"An education is often still the best method of furthering individual goals."
Colleen Young can be reached at [email protected]
Leave a Comment