Freshman keeper Carillo dominant in debut season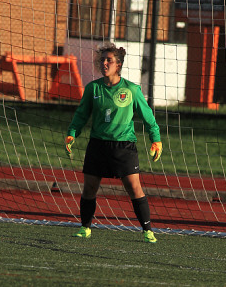 She was relatively unknown back in August. She was new to campus and got lost quite a bit. Now it's nearly November and she has adapted to campus and doesn't get lost – at least, not as often. She now holds multiple school records in women's soccer. She is Buffalo State's freshman phenom goaltender, Taylor Marie Carillo.
"At the beginning, the transition from high school to college was hard. But with the help of the team, it was okay. The captains really helped," said the soft-spoken Carillo.
Senior captain Melissa Smith described Carillo in one word: "Unique."
"She has a unique personality that fits her style of play. When I first met her, she had the 'I want to do the best I can' kind of attitude," Smith said.
Taylor Carillo is an undecided freshman from Pine Bush High School. Pine Bush is a Section 9 school in Pine Bush, New York, located in Ulster County in the Hudson Valley. She stands at a modest 5-foot-1, but plays like she's 7-foot-1. Her abilities in the net are not diminished by her stature.
"It has phased me before," Carillo said. "I was benched by a coach for being too short, but I got over it. I just play. I know I'm capable of it."
Her post-high school career was influenced by a few factors. But Buffalo State had many benefits the goalie couldn't refuse.
"I chose Buffalo State because I was offered the chance to play two sports that I loved: soccer and lacrosse," Carillo said.
Taylor isn't the only person on the team who represents the Carillo family. She has an older sister, Alexis, who is a sophomore. Alexis plays center back. A younger identical twin sister by ten minutes, Amber, alternates between center back and outside back. She also has an older brother.
"You know how siblings are," Taylor Carillo said. "We bank on each other. Some days, we're more sensitive about it than other days. Knowing that they're here in Buffalo is good because I know I can always go to them to open up and to talk to and to vent to when I need to."
"Playing with my sisters is fun. We're used to how we play with each other. We've been playing since we were like four years old, so we played youth soccer, high school and now college soccer together. (Alexis) coming here was something that triggered me and (Amber) to come here."
Every team aims for a family atmosphere. It's not often that's literal.
"Alexis helped me transition easily. At first I was hesitant and not as prepared, but now I'm ready to go," admitted the freshman goalkeeper. Buffalo State head coach Nick DeMarsh gave three descriptors for his freshman goalkeeper: "Studious, selfless and team player."
The studious player has made some smart decisions in net this season. In just her first 17 games at Buffalo State, she holds the school records for consecutive minutes without conceding a goal at 871 minutes and 56 seconds, consecutive shutouts with eight and most shutouts in one season with 11.
The stats speak for themselves. That's nearly 10 straight games without a goal. With that success, you would assume she has accomplished something like this before.
"No, I've never experienced this type of success, not in youth soccer, modified soccer, high school, never," Taylor admitted.
Playing college soccer alone can be considered an achievement. Breaking three school records alongside your two sisters is a storybook tale.
"It's pretty exciting, but I couldn't have done it without my team," Taylor Carillo said. "We needed the strikers in order to score the goals, midfielders in order to attack and the defense in order to prevent shots they may take and when it comes to it. I'm the last man back to bail them out if I have to, but they really don't let much get by.
"A lot of my success is credited to my back line of Hind Alamari, Alexis, Kristen Seiferth and Breanna Knight. They barely let anything get by. I make like, what, one good save a game?"
The Bengals are nationally ranked in Division III at 19. The first time they have cracked the top-20 in program history. They went undefeated in SUNYAC play this season and have a good shot at claiming Buffalo State's first SUNYAC title in women's soccer program history.
The title is the motivation for Buffalo State. They fell to Oneonta last season in the SUNYAC championship game after a magical season.
"The captains and my sister talked to me about it," Taylor Carillo said. "They said a lot. It was disappointing. Watching it, it was kind of sad. They deserved it, but unfortunately, they came just short."
The Bengals have clinched a first-round bye and home-field advantage throughout the SUNYAC playoffs. They will host either Plattsburgh or Oswego on Nov. 2 and it will start at 1 p.m.
"No matter who we draw, if we go into the game with our heads up and ready, we can take any team in the conference like we already showed throughout the regular season. I like to win," Taylor Carillo concluded, standing tall and proud at a towering 5'1".
email: [email protected]