Carillo's streak ends, Bengals unbeaten streak doesn't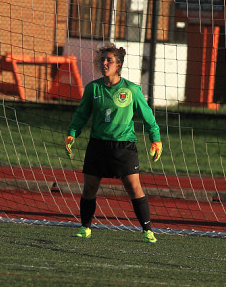 The No. 23 ranked Buffalo State women's soccer team extended their unbeaten streak to 10, winning the last nine. They defeated the Plattsburgh Cardinals, 2-0, and the Potsdam Bears, 3-1, over the weekend.
In the 22nd minute, senior forward Catherine Mammoser scored her fourth goal of the season to give the Bengals an early 1-0 lead. Senior forward Melissa Smith netted her ninth goal of the season for the Bengals in the 85th minute to seal the victory over Plattsburgh. Freshman goalkeeper Taylor Carillo made five saves in the victory.
About three minutes into the following game, Mammoser scored her second goal in as many days and fifth of the season to give the Bengals an early lead over Potsdam. In the ninth minute, junior forward Tianna Hatch gave Buffalo State a 2-0 lead, netting her fifth goal of the season.
In the 17th minute, junior midfielder Victoria Colotti scored her second goal of the season. The Bengals had a 3-0 lead, and it wasn't even the midway point of the first half. Potsdam was able to snap Carillo's school-record minute streak of not conceding a goal in the 83rd minute. Carillo's record, and the program's, stands at 817 minutes and 56 seconds without allowing a goal.
"I had a letdown, and yeah, it was upsetting, but it's better to give one up now than in the upcoming games," said Carillo.
The streak ended and solidified the mark that many future Buffalo State goaltenders will try to break.
"I think anyone would be a little bit crushed, but as a team, we helped pull through, and she kept her head up and played the rest of the game without dreading on the goal," Smith said.
The No. 23 national rank in D-III is the best in program history.
"It's nice, but not the end goal. We are focused on games, not rankings," said head coach Nick DeMarsh.
Next on the schedule for the Bengals (12-1-2) is three straight home games to end the regular season. They will host the Oneonta Red Dragons (8-3-4) on Friday, Oct. 21, the New Paltz Hawks (1-13-2) on Saturday, Oct. 22 to finish off SUNYAC conference play and the St. John Fisher Cardinals (3-6-3) on Wednesday, Oct. 26 in a non-conference battle.
With a win or a draw against Oneonta or a win against New Paltz, the Bengals will clinch the top seed in the playoffs and home-field advantage throughout the SUNYAC playoffs.
"We can't focus on points," said Carillo, bluntly.
email: r[email protected]
Twitter: @E_Rodriguez_24