Aaron Podolefsky: The man, president Buffalo State deserved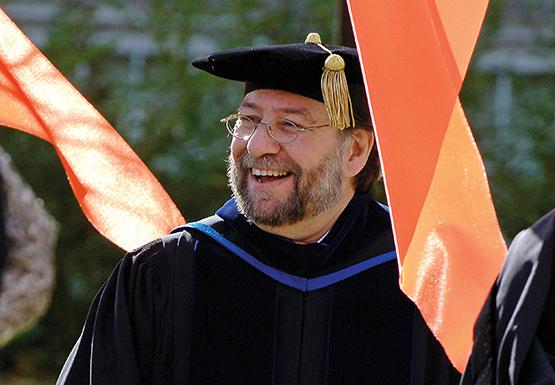 At his presidential inauguration in 2010, Aaron Podolefsky stepped confidently and considerately out in front of a podium inside Rockwell Hall and spoke of his desire to make Buffalo State — and, by extension, the world — a better place.
His vision centered around three simple words that would go on to define his presidency: Celebrate. Serve. Imagine.
Podolefsky felt that if he could convince a campus to buy into these basic yet crucial ideals, Buffalo State might one day achieve the potential he sensed since he stepped foot onto Elmwood Avenue.
"My friends," Podolefsky said then, "as we go forward boldly in collaboration, let us celebrate our proud past. Serve our noble purpose. And imagine always the best that Buffalo State can be."
His words were simple because Podolefsky was simple. They were symbolic of his unwavering confidence in a campus in need of a little extra assurance.
Perhaps that's why students and staff embraced Podolefsky, or "A-Pod," as most students affectionately referred to him, so instantaneously and effortlessly.
Never before in its history had Buffalo State endeared itself to a leader so swiftly.
Podolefsky was in office for less than four years — the blink of an eye by presidential standards — and yet he managed to accomplish more with less than his seven predecessors.
At a time when this school had long been portrayed as Buffalo's unwanted stepchild buried in the shadows of its suburban SUNY counterpart, the University at Buffalo, Podolefsky made a point to expect more out of Buffalo State than anyone has before.
Alienated from its neighbors and, often times, its very own students, he worked tirelessly — evidenced by the creation of the Community Academic Center and the innovative Transforming Lives campaign — to restore a sense of community that at one time made Buffalo State a regional destination.
Podolefsky understood the importance of enjoying life.
He was a stout, burly man with a thick beard before chemotherapy claimed his trademark scruff. Yet his warm, inviting personality and simplistic outlook made him easy to like.
"He had that twinkle in his eye," Linda Dobmeier, a longtime member of the College Council and friend to the Podolefsky family, told me.
Podolefsky was somewhat of a foodie and often raved of his Buffalo dining experiences to his out-of-town family. Among his favorites: pizza and chicken wings, pastrami sandwiches and, above all, Nathan's hot dogs, holding true to his New York City roots.
The days Podolefsky most appreciated were those in which he could stroll down Elmwood with Ronnie, his wife of 40 years, while enjoying a hot dog surrounded by the strangers he was ever eager to learn more about.
On weekends, he relaxed in a t-shirt, blue jeans and sandals or his pair of cowboy boots in the company of his three dogs — Harry, a black and white farm collie which the Podolefskys rescued after being hit by a car; Mishka, a Bouvier des Flanders with a thick, brown, curly coat; and Cannoli, the family's newly-adopted bullmastiff, named for its resemblance to a familiar Italian dessert.
The music of Bob Dylan or Janis Joplin likely filled the air (he was especially fond of Dylan's earliest works) as he dove into a good book or kicked back to enjoy a movie.
Podolefsky's appearance never fit with the cookie-cutter mold of what you might imagine a college president ought to be.
In his wedding photos, Podolefsky sported shaggy hair that flowed almost to his shoulders. He could be seen donning Grateful Dead t-shirts in photos with his sons.
He and Ronnie met while they taught together at Brentwood Junior High on Long Island in 1972.
Ronnie had been engaged to another man at the time they met, her wedding set for a month later. But she became so taken by the sincerity and compassion of Podolefsky that she called off her wedding.
Aaron and Ronnie Podolefsky married one year later to the day, June 3, 1973.
Their wedding bands include a line inscribed in Hebrew from the poem Desiderata, a work about love and humility that represented Podolefsky's true character.
Love is as perennial as the grass, their rings read.
"We never argued," Ronnie told me. "When we fell in love, which was kind of the first day we met, we both understood and assured each other that we were two individual people. We were independent. … Things were never so important that they would get in the way of being with one another."
They had two sons, Noah and Isaac, now 37 and 34 years old, respectively.
Noah now lives in Boulder, Colo., with his wife. They are expecting their first child in March, something Podolefsky was very much looking forward to.
Isaac married last August and works as an information technology consultant at the University of Iowa, where he shared memories of his father with me by phone on Monday.
One that stood out took place on the night of Isaac's wedding at a ski resort in Illinois.
While at the reception, Podolefsky slipped while scaling a flight of stairs, leaving his shin badly bruised. Podolefsky's family did not learn of his injury until the following day after he had concealed the pain throughout the night.
"I remember asking why he didn't tell us, and he said, 'I wasn't going to let it stop me from dancing at my son's wedding,'" Isaac recalled, fighting back tears. "I never knew it happened. He danced all night. And that was the kind of guy he was. He was really concerned with making sure that it wasn't ever about him."
It's that same selflessness that endeared Podolefsky to those who worked alongside him — never underneath — throughout his career, and the thousands of students whose lives he touched.
By all accounts, Aaron Podolefsky was a people's president.
He had the extraordinary gift to identify with everyone he came across. He was cordial to all and often took the time to believe in the people who had been bypassed by others too busy to notice.
"I think he was one of those people that, no matter who you are or what you believe in, your life was better because you knew my father," Isaac proclaimed.
While at the University of Northern Iowa or the University of Central Missouri, Podolefsky was instrumental in developing new programs or fighting to keep others afloat amid budget crisis.
The University of Central Missouri held a memorial service the week following Podolefsky's death. His former colleagues at the University of Northern Iowa are planning another service in his honor this month, more than 13 years after he left his position there.
Buffalo State's memorial will take place at 3 p.m. on Oct. 13 inside Rockwell Hall.
"He could walk with kings but keep the common touch," Dobmeier said, her voice softening as she began to weep. "People liked him because he could be with everyone. He made everyone feel important in a way that was genuine, never fake."
Throughout his years as president here, the one thing that stood out to me was how Podolefsky always seemed to make a point to refer to Buffalo State as a "university."
One of his first orders of business after taking office was to re-brand the college with a new name and logo, a plan we saw come to fruition last semester.
It's a small detail in the grand scheme of things, but it is something that resonates with me.
Aaron Podolefsky believed in us as a campus, as a community, in everything Buffalo State represents. He imagined the incredible things we might accomplish and the great people we are capable of becoming.
Podolefsky gave Buffalo State a name; something to be proud of, something we could rely upon. For that, his name will forever have an impact on my life and the lives of the thousands at Buffalo State that he touched during his time here.
Aaron Podolefsky wasn't just a college president; he was Buffalo State's president. And in the end, that's everything we could have asked for.
Brandon Schlager can be reached by email at [email protected] You can follow him on Twitter @B_Schlag.
View Comments (6)