Community joins campus in mourning the loss of Podolefsky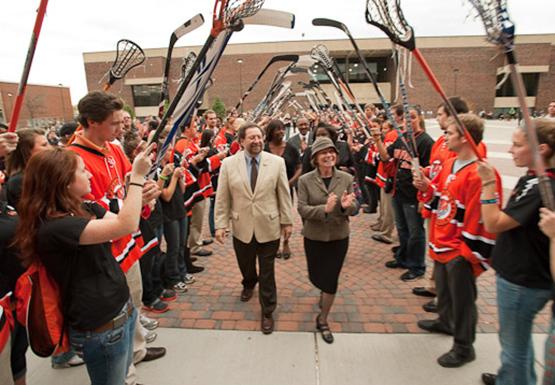 When the news of former President Aaron Podolefsky's death began to spread across the Buffalo area, numerous political and business leaders in the community took to social media to express their condolences.
"RIP to Dr. Aaron Podolefsky. My conversation with him at Acropolis in 2012 will never be forgotten. He loved Elmwood and Buff State," said Paul Tsouflidis, owner of Acropolis on Elmwood Avenue, in a tweet.
Dr. Podolefsky left an indelible mark on campus that was also felt by those working in the community around Buffalo State. Through several initiatives, Podolefsky worked to make Buffalo State a larger part of the neighborhoods surrounding Buffalo State.
The Community Academic Center on Grant Street, which helps support families on the West Side with resources for education, was opened during the fall 2011 semester, during Podolefsky's tenure. He also oversaw "The Year of the City" last year, which put an emphasis on Buffalo State collaborating with the city. Over 1,760 students participated in service learning courses last year, contributing almost 42,450 service-hours to the surrounding community, according to Interim President Howard Cohen's State of the Campus Address last week.
After becoming the school's eighth president, Podolefsky reached out to local politicians to see what Buffalo State could be doing better in terms of interacting with the community.
"Within months of becoming president he contacted me to find out what Buffalo State could do to be a better neighbor," said Councilmember Joseph Golombek, who oversees the city's North District, "Then we had lunch at Cafe Aroma.  That was a breath of fresh air."
Golombek and Podolefsky discussed ways to integrate Buffalo State with the Grant-Amherst Street area. Golombek explained that it was unfortunate when everything stopped when Podolefsky became ill but he's hopeful the next president will pick-up where Podolefsky left off.
"I hope the next president will have the vision that Dr. Podolefsky had," Said Golombek.
Mary Joy Buscemi, the former marketing director of the West Side Bazaar on Grant Street and Buffalo State alum, also had words of praise for the work Podolefsky did in the community. As someone working in the community around Buffalo State when Podolefsky was brought in, there was a sense of "anxiety and excitement," she said.
"When Dr. Aaron Podolefsky was selected, I sensed a real change," explained Buscemi, "He and his wife set the tone and embraced the campus community with such warmth. There was such a team vibe that permeated through the campus and the community."
Buscemi expressed how the loss of Dr. Podolefsky saddened everyone.
"Experiencing his loss was tragic," she said. "(It's) a great loss of a wonderful President, leader and friend."
Mark Kubiniec, president of the Grant-Amherst Business Association thanked Podolefsky in a comment he left on an article announcing that Podolefsky would be stepping down as of Aug. 1.
"President Podolefsky, thank you for bringing focus to connecting the campus with the surrounding community, and getting the school administrators out of the ivory tower every once in a while," he wrote. "Your backyard barbecues and lively laugh will be missed."
Michael Canfield can be reached by email at [email protected].
Leave a Comment