Bengals dominate early without scoring leader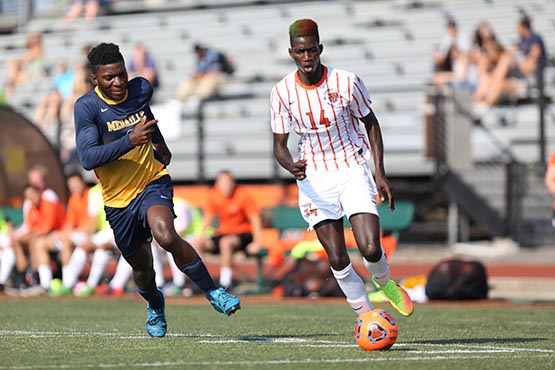 Typically, a team will wallow in the loss of a good player. They'll lose some confidence and swagger. But in their last three games, the Bengals showed they will keep on chugging without standout Luke Pavone, the team's leading scorer last season.
Buffalo State (3-1-1) defeated Baldwin Wallace (0-4) by a score of 4-1 and beat Houghton University (2-1-2) to the claim the title of the Fredonia Blue Devils/Clarion Hotel Classic.
Buffalo State led in every aspect of the game against Baldwin Wallace. Statistically, they led every category of the game, completely dominating the Yellow Jackets. Junior forward Tristan Myers had a hat trick and was Buffalo State's most valuable asset. He was all over the field, leading the team with five shots on goal.
"I've been working hard and haven't gotten the results that I've wanted," Myers said. "But my coach and team has been really supportive and it just clicked."
The domination against the Yellow Jackets is just another step in the right direction for Buffalo State. After falling to RIT in a close match the first game of the season, the Bengals haven't looked back with a string of impressive performances.
This season, the Bengals have outscored opponents 11-2, and have had more shots on goal this season with an impressive 19 advantage over their opponents. The Bengals have shown great depth and patience on the offensive side of the ball.
"We just had a dominating performance, everybody played well, kept the ball and had great patience," said Buffalo State head coach Mark Howlett. "That's the state of the program – one person goes down and another steps up."
The Bengals have started off well so far this year, but push will come to shove when they start playing SUNYAC matches in less than a month. They started off hot last year at 4-0, but cooled off in the middle of the SUNYACs. A string of overtime losses in conference play last year is something the Bengals don't want to repeat.
Buffalo State is looking to build off last year, too. The entire mindset of the team is different from years past. This year, the coaches have been harping on focusing on one game at a time.
"These non-conference games are important games, because we're trying to build," said senior Dan Aguilar. "I believe we have a team that could win a championship. We are going to work day in and day out and hopefully we get a SUNYAC title this year…in previous years, we didn't have the players."
"Now we have depth, we have players who can score. That's what's going to make us successful."
Buffalo State will be hosting D'Youville on Friday, Sept. 16 at 4 p.m. and Clarkson on Saturday at 4 p.m., then travel to Alfred State on the following Tuesday at 7 p.m. to round out this season's non-conference slate.
email: [email protected]
Twitter: @RyRyMullen