Bengals hope to replicate aerial success in season opener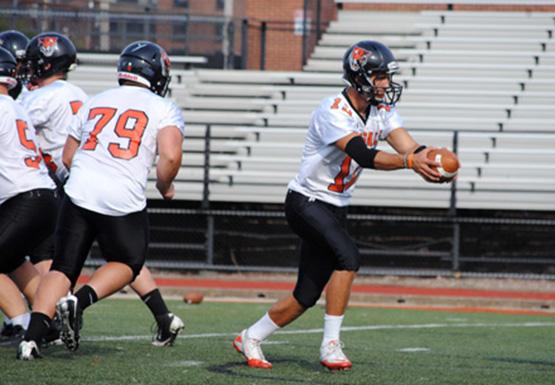 The football team will begin its season Saturday at Cortland, in one of the most anticipated season openers in recent memory.
After beating perennial powerhouse UW-Whitewater last year and ending the season on a four-game winning streak, hopes are high surrounding the program entering 2013.
With Cortland squarely in the team's sights, its time to take a look at what the keys to victory will be in Week One:
1. Pass the rock
-Last season, the Bengals torched Cortland for a school-record 579 passing yards and five touchdowns, mostly with the help of deep throws from quarterback Casey Kacz. They also set a new record for total yards with 706 en route to a 49-31 victory. This year, Cortland will surely make some adjustments, and Kacz and the Bengals will need to find a way to continue to move the ball. If the Red Dragons take away the deep ball, connecting on short and intermediate passes will be key to the offense's success. Look for an increased emphasis on the screen game and passes to running backs coming out of the backfield.
2. Defensive holes
-The team needs to find a new group of players to lean on defensively, with the departures of Pasquale Vacchio and Sean Littlejohn leaving a big void on defense. Vacchio and Littlejohn accounted for 179 tackles last year, good for 21.7 percent of the team's total production. Replacing those players — and their production — will be imperative early in the season. New starting linebackers Shaq Frederick (sophomore) and Sekret Kukaj (freshman) will need to make an immediate impact in order for the Bengals to take a step forward defensively this season.
3. Avoid mental breakdowns
-It sounds cliché, but the biggest key to victory this week for Buffalo State will be to stay out of its own way. In the first week of the season, when teams don't have much game film, the most important thing is to avoid mental mistakes. Head coach Jerry Boyes stressed this point, saying "On Saturdays, for the most part, the game is played from the shoulder pads up." To come out of the game with a win, the Bengals need to avoid silly penalties, keep their focus, and execute on every play. Cortland returns only seven of their 22 starters from last year, significantly less than Buffalo State's 16. The Bengals need to take advantage of this edge.
The Bengals and Red Dragons will kick off at 1 p.m. Saturday at the SUNY Cortland Stadium Complex.
Stay tuned to buffstaterecord.com for stories throughout the weekend, and follow @bscrecordsports on Twitter for in-game updates and final scores from all campus teams.
Chris Dierken can be reached by email at [email protected] and on Twitter @cdierken
Leave a Comment