From freshman to Fulbright, Weselak finds way to Rwanda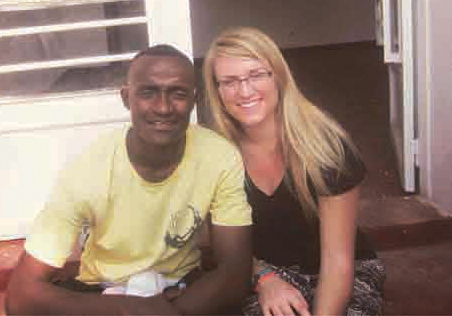 Six years ago, SUNY Buffalo State graduate student Ashley Weselak took her first trip abroad to Ireland for 10 days as a freshman. Last year, she became the first non-drama major to partake in the Anne Frank Project's annual three-week Rwanda trip. Now, she is about to spend another nine months in Rwanda.
Weselak, who will graduate in May with a master's degree in English education, is one of approximately 1,900 U.S. recipients of a Fulbright U.S. Student Program Grant. She will teach English, volunteer in the community and conduct research in Rwanda during the 2016-17 academic year.
The Fulbright is a highly competitive grant where candidates are selected based on outstanding professional and academic achievement, volunteer service and demonstration of leadership in a particular field. According to the Fulbright U.S. Student Program website, over 3,600 candidates are recommended by subsections of the National Screening Committee each year.
Buffalo State News and Events reported that Weselak is Buffalo State's sixth Fulbright award winner in her category since 1967.
"It feels amazing," Weselak said. "I think my place on campus helped me out a lot."
She started applying for the grant back in March of 2015, which left her wondering for over a year if she would be going to Rwanda, staying in Buffalo or going elsewhere in her future. Weselak began looking at other universities, such as Harvard and Brown for guides and tips on how to apply. She discovered that a lot of prestigious universities paired student applicants with mentors and held workshops.
"Over the past year, I was hoping for the best but expecting the worst because I knew I was competing against people who had a lot more support and opportunities to have these experiences that would help them on the Fulbright," Weselak said.
But when she received the news that she was a Fulbrighter, all that anxiety was put to rest.
"My dad thought I didn't get it by my reaction because I started sobbing uncontrollably," Weselak said. "I never experienced that kind of happiness before, where you actually can't breathe. I was sobbing and shaking and shrieking, and I've never experienced anything like that before. I've been really happy and more people have found out about it over the past week, so they've been telling me [congratulations]. Every time I hear about it again, I feel this sense of excitement."
She wanted to go to the Peace Corps after she graduated high school, but decided to wait until she graduated from Buffalo State. After finishing her bachelor's degree, Weselak was close to going into the Peace Corps again, but decided to stay at Buffalo State for the graduate program.
"Ever since I was in high school, I've wanted to go work for the Peace Corps," she said. "I wanted to go to countries that are still kind of developing, I just wanted to work in that kind of environment."
It was during her time as a graduate student that Dean of Education Wendy Paterson suggested that Weselak go to Rwanda with the Anne Frank Project. Her first trip to Rwanda was in January of 2015.
The three-week trip was just the perfect amount of time for her to get a taste of what type of work she wanted to do. It was after that trip that she decided she wanted to go back.
"People always ask me what's my favorite thing about Rwanda. I really can't even pinpoint it, it's just the way that I felt while I was there. It's a very different experience."
She said there is very little selfish individualism in Rwanda. Vendors in Rwandan markets will help out one another with change, among other things, and everybody works together.
"They're [Rwandans are] very communal. Everything that they do, they're looking out for each other," she said. "That's why it's so interesting to talk about what happened 20 years ago during the genocide, to think about, 'How did this community come to that?' because they're so caring about each other."
Weselak was finally planning on going into the Peace Corps to go back to Rwanda and work in education.
That was the case until she talked to Paterson again, who suggested she do something more academic-based. Weselak then went to the International Student Affairs Office, where Dr. Jean Gounard convinced her to apply for the Fulbright.
From there, she received plenty of help from Gounard and other Buffalo State faculty and staff members.
"I definitely had a lot of help at Buff State," Weselak said.
"Ashely was a strong candidate because she has connections in Rwanda, she's been involved with Project Flight at Buffalo State, and she's whole-heartedly dedicated to teaching and helping others," Gounard told News and Events.
For the Fulbright essay, she was limited to one full page to write, including her personal statement and project proposal, otherwise she would be disqualified. Weselak said Dr. Michele Ninacs in the Writing Center and Tamara Hortsman-Riphahn in the School of Education helped her with the essay. Drew Kahn, director of the Anne Frank Project and theater professor at Buffalo State, also helped Weselak apply.
"He was a big factor in helping me try to think about what I should talk about in my project proposal," Weselak said about Kahn.
She considers English professor Laurence Shine a mentor for all of her college career and travels abroad, including two trips to Ireland, studying in England and working in Italy. Shine even brought her on a study tour to Ireland her freshman year.
"He's been my mentor ever since," Weselak said. "He's walked me through everything."
Her experiences in those countries seemed like a culture shock until she landed in Rwanda last year, a trip which Shine helped her decide to go on.
"I probably wouldn't have gone to Rwanda if it wasn't for him and that first year in Ireland."
"We were worried that she wasn't going to come because she hadn't done much traveling and her parents were highly reluctant. I think I saw her mother lying down on top of the bus on the road, in fact," Shine joked about taking Weselak on his study trip to Ireland. "But when we got her on the bus and we got her on the plane, then she never looked back."
Weselak has already established connections in Rwanda from her first trip with Kahn and the Anne Frank Project. In her Fulbright proposal, she said she wanted to continue to work in the Rwandan community.
"I think that hardly [there's] another person that is more apt for such a job and more ready to do it because she's got the experience," Shine said. "She's a travel veteran now, and she's cautious enough. She's nobody's fool, so she knows how to look after herself. And of course, she's got this generous spirit, too, because she's very attracted to teaching, especially children and young people generally from foreign countries and foreign cultures. I couldn't imagine a student better prepared."
Although she doesn't know where she'll be located, Weselak said she will be working with college students. She would like to be in the nation's capital, Kigali, so she can continue her work with her friend, Pacifique Niyonsenga, and the Niyo Cultural Centre.
Niyonsenga takes care of over 100 homeless children, helps pay for their education expenses (Rwanda education is free, but things such as supplies and uniforms are not) and teaches dancing and drumming lessons to keep children off the streets. Weselak has currently raised about $7,000 to help Niyonsenga's program and helps advise him on how to improve it.
"Of course if I'm in Kigali, I'm going to work directly with those kids," Weselak said. "If I'm not in Kigali, I would like to look to see if there's anything similar because I love to work with children."
She said she'd also like to work with Mama Arlene's, a facility for children who don't have their parents any longer, which she visited on her previous trip. If she doesn't end up in Kigali, Weselak said the countryside would be nice and she "would be happy anywhere."
Weselak also wants to start an English book club for a university that could extend out to the community, and maybe even an American culture night for students. She said Rwanda's current education system is very French-based, with a lot of lecturing and memorization. Rwanda is trying to move toward drama-based education, which is more interactive, where students are more vocal and work together with peers and teachers.
"The country is changing everything. It has been given this opportunity to start over and really reflect on what changes need to be made. As a teacher, it's really interesting for me to be there because I'm seeing it happen, I'm seeing an entire country reshape their education," Weselak said. "So the community aspect, that communal atmosphere, and then also more specifically to my degree, it's really great to be there for education because I'm seeing it happen and I get to be a part of that."
Weselak leaves in late August or early September. The grant period is for nine months from September to May, but she is hoping to extend it over next summer.
For anybody interested in travelling, Weselak said there's a lot of financial resources available for students, including scholarships and local organizations, such as Project Flight. She also gave this advice:
"People say that they want to travel but they won't take the step to actually apply for it. It's scary if you've never traveled before to apply for something. You see how expensive it is, you know you're going to be away from your family, you're going to be in a place that you don't know, you might not know the other people that are going. There's a lot of different fears that people have when they travel, but I would say just to apply for it and just go for it! Everything else will fall into place. There will be difficulties, there will always be difficulties, but it's something that you'll never regret."
For the Fulbright program, Weselak said the application process is intense. She said to make sure you have experiences outside of your comfort zone and volunteering in your field often. She said the Fulbright wants to select people who have proven they are adaptable and flexible in new and challenging environments, so you should know about the country you are applying to go to. It's important to understand the history and culture of the country, and to be sensitive to the country's unique issues, because you will be chosen based on your ability to establish relationships within the country and how well you can represent the U.S.
As for Weselak, after her plane touches down in Rwanda this summer, the first thing she plans to do is visit someone she's been in touch with since she left "the land of a thousand hills."
"The first thing I'll do is probably go see my friend Pacifique."
email: [email protected]