Cohen readies Buffalo State for 'year of transition'
Six-point plan places emphasis on the campus' future with a new president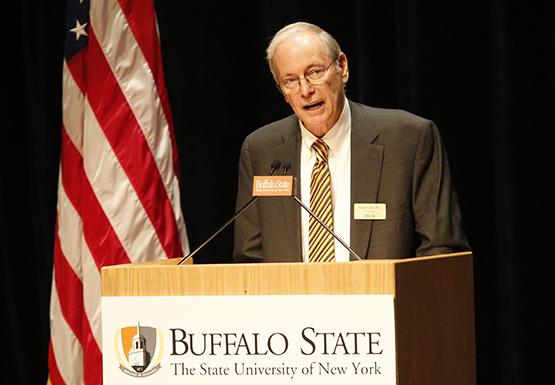 Interim President Howard Cohen addressed students and staff for the first time Tuesday afternoon inside Rockwell Hall, laying out six issues Buffalo State will be dealing with this year.
Cohen began the address by introducing himself, and paying respects to former president Aaron Podolefsky, who passed away in August.
"This will be a year of transition for us," Cohen said, "as we prepare the college for its next president."
Among the issues facing the school, Cohen laid out six as the most important.
The biggest issue, Cohen said, is declining enrollment. Enrollment numbers have been down for the last two years, after peaking in the Fall 2011 semester. Growing enrollment is vital, he said.
"We must find ways to stem the decline and recapture the revenue that we lost along with our student enrollments," Cohen said. "Our task this year is to bring revenue and expenses back into balance – and the most productive way to do that is by growing enrollment."
Cohen said the school is taking "immediate steps" to tackle retention issues. The school will also look into better ways to recruit students to Buffalo State.
The second issue Cohen addressed is strategic planning. Citing President Barack Obama's speech in Buffalo last month, Cohen said Buffalo State needs to lay out the value it provides to students.
"SUNY tuition is very affordable and, at Buffalo State, student debt at graduation is well below the national average," he said. "However, our challenge is to clarify our strategic position in relation to the other choices of potential students and supporters. We need to identify the value we offer and work to make it a reality that is well understood."
Cohen also addressed budgeting, institutional sustainability and the southwest corner of campus.
"The southwest quadrant of the campus is a natural second front door for Buffalo State," he said. "The campus has a variety of needs and opportunities that could be situated there: additional student housing, an alumni and visitor center, additional parking, and community partnership spaces – to name the most obvious."
Cohen also discussed economic development and Buffalo State's role in Start-Up NY.
"This economic revitalization initiative is designed to foster entrepreneurialism and job creation on a large scale in association with public higher education through tax-free communities across the state, and specifically in our region," he said. "SUNY, along with other college communities, will serve as the framework for the Start-Up NY program that is designed to attract companies to bring their ventures to Upstate New York by offering new businesses the opportunity to operate tax-free while partnering with world-class SUNY campuses, like Buffalo State."
Check Wednesday's print issue of The Record for a more in-depth look into Cohen's campus address.
Michael Canfield can be reached by email at [email protected].
Leave a Comment