Radio Waves, the Goos and Teenage Prohibition: A memoir of Buffalo State's defining music scene in the '80s
In early December of 1973, an up-and-coming Canadian rock band called Rush opened for Genesis in SUNY Buffalo State's "New Gym."
On a Tuesday in late October of 1989, a local opener called the Goo Goo Dolls warmed up a sold out crowd for a Red Hot Chili Peppers show in the Campbell Student Union Social Hall.
Today, Buffalo State holds just one major annual concert — United Student Government's Springfest.
A lot of things have changed at Buffalo State, and the college's music scene is all but a shell of what it once was. 2016 seems like the perfect time to reflect on the golden age of music at Buffalo State.
Everything seemed to build up to one year; everything seemed to change, for better or worse, in 1985. The Beaumonts became the Goo Goo Dolls, a guy named Tom Calderone graduated from Buffalo State, the 'new wave music' movement was in full swing and New York State changed the legal drinking age from 18 to 21.
RADIO WAVES
"There was a pretty active group of people who were really excited about bringing in shows. It was awesome," said Robbie Takac, a founding member and bassist of Buffalo-based rock and roll legends, the Goo Goo Dolls.
One such person who played a part in bringing a lot of those shows to Buffalo State was Bill Woelfel, a DJ at WBNY 91.3 FM, Buffalo State's student-run radio station in 1985, and the Student Union Board Concert Director from 1986-87.
But Woelfel credits a guy named Tom Calderone for laying the groundwork, setting the stage and making Buffalo State a well-known name amongst the music community, and more importantly, agents and "bookies" for newer artists.
In 1982, Calderone was a freshman at Buffalo State, and WBNY was getting set to cut the ribbon and send out its first FM radio waves after transitioning from WSCB-AM. Calderone was hired as the program director and chose to lead the station in a new direction.
In the early 1980s, new wave was taking over, and the advent of synthesizers was revolutionizing music.
Calderone and WBNY made the progressive decision to ride the new wave, a decision which gave the station immediate notoriety and provided it with an identity as a new music pioneer.
"What Tom Calderone did for WBNY was amazing," Woelfel said. "He and Gabe DiMaio ended up changing the format of the radio station to new music. It was one of the first music stations that was a new music station before college radio was college radio."
On WBNY's eighth anniversary in 1990, Calderone was interviewed for a piece in WBNY's now-defunct publication, Off the Avenue. At the time of the interview, Calderone was the program director and a DJ at WRCN, a radio station in Long Island, NY.
"It was very exciting because it was something that the city needed," Calderone told Off the Avenue. "There's really no other alternative radio station in Buffalo. It was perfect timing because the 'New Wave' movement musically was happening at the same time; you couldn't ask for a better time to start something like that."
If an up-and-coming synthpop group was starting to climb the charts in 1983, WBNY was probably playing their demos in 1982.
"We were playing The Replacements, The Thompson Twins, The Police and U2," Calderone said, claiming WBNY was the first Buffalo radio station to play U2. "A lot of the music that was coming out was not getting the commercial air play because it was pigeonholed as this new wave thing and basically what we (WBNY) did was against the grain and it paid off because the college got so much recognition from it."
Calderone has always possessed an uncanny ability to recognize the next big, new thing before it becomes a big, new thing. He did it at WBNY when he played chart-toppers when they were little more than noisy foot-stompers, and about a decade later, he did it in 1996 when he gave a starry-eyed, 15-year-old Britney Spears a shot and convinced his superiors to give her music videos airtime after her singing voice impressed him when she auditioned in his office.
Viacom returned the favor and recognized Calderone's talent, appointing him the president of MTV's sister station, VH1, in 2008. Calderone left VH1 in July of 2015 and was hired as Spotify's global head of content partnerships February 2016.
Looking back at the acts that played at Buffalo State between the late 1970s and late 1980s, it would seem as though the college hosted star-studded, diverse lineups year in and year out. Acts which are now iconic rock and rollers – The Violent Femmes, Iggy Pop, R.E.M., The Cure and Talking Heads – all played shows in Buffalo State's Student Union Social Hall, "New Gym," and Rockwell Quad.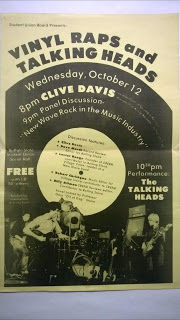 But for the most part, many of the acts played at Buffalo State well before any mainstream success. Many were up-and-coming artists, and the crowds were attracted by the alcohol and after party just as much as they were by the artist lineups.
"We strove towards the new music for two reasons – it was popular with us, but number two, because it was new music coming out, so it was less expensive. The alternative bands were within our price range," Woelfel said.
Surely, many felt regret for missing out on shows. They didn't know they were missing much of anything at the time, though.
"I was watching the Talking Heads in the Social Hall with like 20 other people because nobody knew who they were," said David Derner, a then-student, now professor at Buffalo State. "It wasn't until like a year later when I heard them on the radio. The only reason I stayed was because a friend of mine from the soccer team wanted to go to The Pub later on."
Most Buffalo State students are as oblivious to Buffalo State's diverse and defining music scene in decades past as Derner was as he paid half attention to David Byrne twitch around the Social Hall stage. A majority of Buffalo State's student body doesn't know that Buffalo State used to host at least one, if not two concerts a month, and they're often shocked to know that Buffalo State used to have not one, but two on-campus bars.
Derner's students are the exception. Derner teaches a figure modeling class in the fine arts department with a free crash course in Buffalo State music scene history in the 1970s and '80s.
THE GOOS
"I was at a party in around '85, way down on Richmond in the building with all the lion sculptures in front of it. We called it 'The Lion House,'" Derner said. "And John (Rzeznik), I didn't even know he was a musician. He picked up a bass guitar from a tall black dude, and he was playing it on the bed, and this was the first time I ever saw John with a guitar. He wasn't even really playing it. I remember him sitting on the bed, and I said, 'John! I never knew you played guitar,' and he said 'Well, I'm just learning.'"
Takac and John "Johnny Goo" Rzeznik, the Goo Goo Dolls other founding member, guitarist, frontman and former Buffalo State student, were supported by Buffalo's local music scene and called Elmwood Village home for nearly a decade before they broke through nationally and went on tour.
"It was a great combination of stuff all going on at one time," Takac said. "The scene was different then. The biggest bands in that scene were still only selling a couple 100,000 records. It wasn't like it became later on with bands selling a million records, so the scene was still pretty small."
Many of the people who attended the Red Hot Chili Peppers concert at Buffalo State in '89 were very familiar with the opening act, the Goo Goo Dolls. They played at places like Mister Goodbar on Elmwood Avenue, and The Cabaret and The Continental on Franklin Street, where Rzeznik worked as a bar-back in the early 1990s.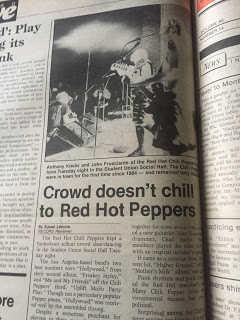 "John (Rzeznik) would be picking up empty bottles from the night before on the second floor where the dance floor was and he'd yell down, 'Hey Dave! We're playing tonight – come and see us!'" Derner said.
Rzeznik, Takac and the Goo Goo Dolls consider themselves loyal Buffalonians, and have hosted a music and arts event called "Music is Art" in Delaware Park, just a few blocks from Buffalo State, annually to give back to the community.
"It's why we were able to exist for the first 10 years," Takac said of Buffalo's music scene. "We'd go out and play to 40 people and come back to the house, it was amazing. [There were] a lot of great clubs, a lot of support of the scene itself. It's still out there, there are still people making it happen, man."
TEENAGE PROHIBITION
"Everything we did, there was always beer," Derner said. "For the smallest reason, there was a keg of beer at Buffalo State."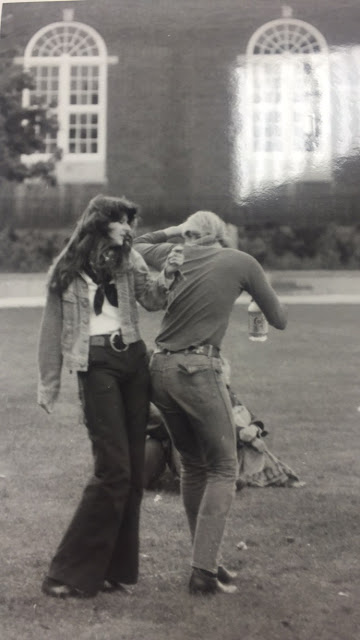 But the lack of alcohol shouldn't have killed Buffalo State's rock and roll-based music scene. After all, the rocker's motto is "sex, drugs and rock and roll," right? Well, that goes for the guys on stage who can afford them.
"We were college students, so we just drank beer," Woelfel said. "Some people smoked joints. Mushrooms were basically reserved for summer camp. Back then, you'd have some blow going on too, or coke or whatever."
The college music scene was a fire that – fueled by alcohol – was not immediately extinguished, but slowly died out after New York State raised the drinking age from 18 to 19 in 1982, then ultimately to 21 in 1985. The new laws meant more than students no longer being able to get a beer at The Pub in the Student Union after classes, it meant concerts at the college became uneconomical – and unattractive to most unwillingly sober concert-goers – without alcohol sales.
"The drinking age was 18 back then, which kind of changed the complexion of things," Takac said. "They used to have alcohol on campus, so that changed the complexion a touch. I don't think that's the main reason why (the campus music scene faded out), necessarily. I think it's just that the money kind of went different places … It (the music scene) fell out of fashion a little."
Derner and Woelfel, long-time friends, reminisced about good times, helped each other recall dates and details when the other's recollection faltered and debated the impact of the teenage prohibition and whether it was the be-all-end-all of the college music scene over beers at Hardware Café on Allen Street.
"All of this is because there was alcohol on campus," Derner said.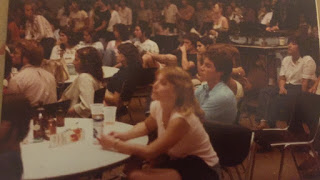 "Yeahhh, there were other things," Woelfel added.
"No, no, after it went to 21 there were no concerts anymore!" Derner contested.
"Iggy Pop played in the gym, so did…" Woelfel said, attempting to change the subject.
"What concerts were there after '85?!" Derner cut in while Woelfel ignored him and continued to talk about the Iggy Pop concert.
"Bob Dylan… There were a lot of concerts," Woelfel added.
"After '85?! How many concerts were there after '85?!" Derner asked disbelievingly.
"Oh, I don't know… Into the mid '90s." Woelfel said. "I mean yeah, they should have never raised the drinking age. I think that hindered it a little bit. I don't think the drinking age really killed it."
"It killed a lot of stuff," Derner said, supporting his notion relentlessly.
They're both right, kind of.
While Buffalo State did continue to host respectable rock concerts into the mid-1990s, they were much less frequent. While you can debate whether Buffalo State's music scene died, it's tough to argue that Buffalo State's rock and roll scene did. The last non hip-hop act to play the one and only Buffalo State concert, USG's annual Springfest, was Iron and Wine in 2012 – a low-energy solo acoustic act. The last non hip-hop headliners were Muse and Sum 41 in 2005.
GRAND FINALE
It all seemed to build up to one fateful year – 1985.
The Ramones were set to make their return to Buffalo State for Spring Fallout presented by the Student Union Board and WBNY.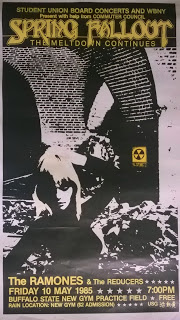 But this wasn't the same juvenile Ramones who chanted "More beer! More beer!" while banging their fists on the round tables of the Moot Hall Night Lounge during The Dictators' opening act. Most people hadn't heard of The Ramones in 1978. This was the 1985 Ramones with their swagger in full swing, and every single person knew who The 1985 Ramones were.
It was one of the last shows at Buffalo State in which alcohol was allowed on campus. In December of that year, the legal drinking age in New York State officially became 21. They went through over 100 kegs of beer.
"I remember walking out near the baseball field, and near the snow fence I saw the kegs of beer," Derner said. "I couldn't believe how many kegs of beer I saw. It was like, holy f—, did we drink that much beer?!"
In 1985 at Buffalo State, The Ramones rocked and rolled and beer flowed from kegs all evening long. A whole lot happened, and a whole lot changed that year.
email: [email protected]