New Burchfield exhibition combines the old with the new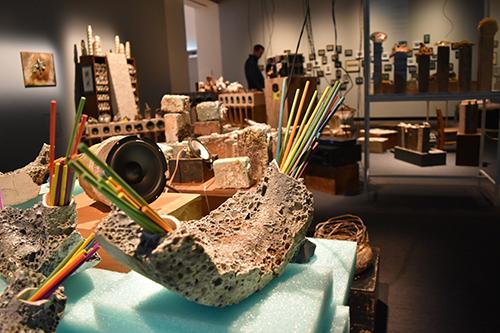 Sonic artist Andrew Deutsch combines his love for art and music in his new exhibition, "Object As Energy Point," now on display at the Burchfield Penney.
Deutsch's main focus for this installation was the speakers, all in which he handmade. His love for speakers sparked from the contribution of three separate artists: Paul Klipsch, John Bau and Richard Sequerra.
"Paul Klipsch was the person whose speaker designs I grew up with," Deutsch said. "And John Bau created the first speakers designed by computers."
"But Sequrra was the most important person of inspiration because he showed me how speakers work and eventually wanted me to make my own. So this installment is dedicated to him."
Deutsch also spends time writing his own music as a composer.
"I have an interesting strategy," he said. "If I can make a bad speaker look interesting, and as a composer, play my own music on that speaker, I can compensate for that shortcoming and make the music sound good."
"Everything in the show is a speaker, or a metaphor of a speaker."
As an artist, Deutsch concentrated carefully on the use of color, using various colored tiles that had a color relationship to him to correlate the relationship between sound and color.
"For speakers, Klipsch, Bau and Sequrra, each one of their speakers articulate color differently," Deutsch said.
Another aspect of this exhibition is the boxes.
"This came about because of my fear of power tools," Deutsch said. "It was also a form of therapy for my father-in-law who suffers from Parkinson's disease."
The contrast between the speakers and the boxes are representative of taking new and old items and combining them together as one.
"I would describe this piece as rustic science-fiction," Deutsch said. "I want people to have a feeling of science-fiction but also a mix of rustic beautiful stuff like Burchfield's work.
"I'm not interested in the clean and perfect. There is a term called 'wabisabi,' which means rustic. In other words, this means an appreciation of the used, the old and the sometimes broken. So I guess I would say it is like wabisabi-sci-fi."
"It is a strange blending of technology and an old wheelbarrow."
This installment will be on display until Sunday, July 24. Deutsch will also be performing at the Burchfield Penney on May 8.
email: [email protected]