Women's soccer finds success, gains experience in opening weekend
Bengals earn win and draw in preparation of SUNYAC slate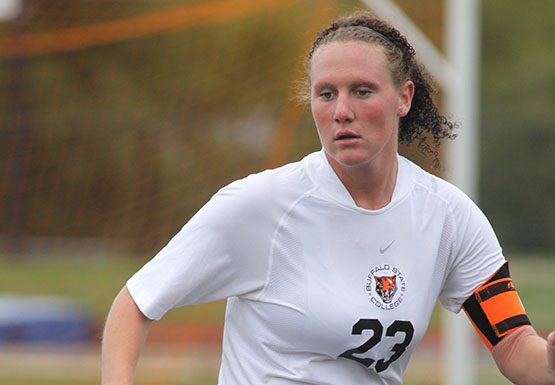 he Buffalo State women's soccer team started the season off on a high note with a win and a draw.
The Bengals opened the season with a match against Skidmore on Friday in the Farmingdale State Classic, tying them, 1-1. Buffalo State controlled play early and led 12-3 in second-half shots, but Skidmore scored in the 80th minute to take a 1-0 lead.
Less than five minutes later, senior midfielder Shannon Yokopovich scored the equalizer in the 85th minute. Each team attempted 15 shots in the draw.
To close out the tournament, the Bengals defeated Emmanuel, 1-0, on Saturday. Senior midfielder Paula Jon
es scored in the 16th minute to score the lone goal of the game.
The Bengals relied on their defense and strong play from goalkeeper Linda Banfield to hang on for the win. The junior made three saves for her sixth career shutout.
Although proud of his team's performance, head coach Nicholas DeMarsh maintains that there is room for improvement.
"We need to get more fit," DeMarsh said. "We also need to work on our movements in the attacking third of the field. We got results this weekend but it was not based on beautiful soccer. It was more on will and attitude."
DeMarsh also pointed out that these early season matches are less about wins and losses and more about gaining experience needed for SUNYAC play. The games at the beginning of the year are more for setting up his team's system of play.
Senior midfielder Jordan Dudish said she was proud of her team's performance this weekend, but also feels the team needs to progress in order to keep succeeding.
"We still have a ton to work on and we're still getting used to each other, but many girls stepped up this weekend to get results both days," Dudish said. "If we keep doing what we have been as well as improve on our technical skills, there's no doubt in my mind that the success will keep coming."
Banfield, who made seven combined saves in the two opening games, also believes that the team's success can continue with hard work.
"I think our current team is a really well-knit group of girls, and if we continue to work hard, then I think our season is going to be a winning season," Banfield said.
The Bengals play Manhattanville Friday and Eastern Connecticut State Saturday in the Manhattanville Valiant Classic this weekend. DeMarsh is confident ahead of the tournament, and thinks it will be another good test for the team.
"I think based on what I saw, we have some potential," he said. "Now it is a matter of refining what we have and keeping healthy. Next weekend should be another great test for us."
Chris Losey can be reached by email at [email protected]
Leave a Comment