New student housing selection process gives freshmen first dibs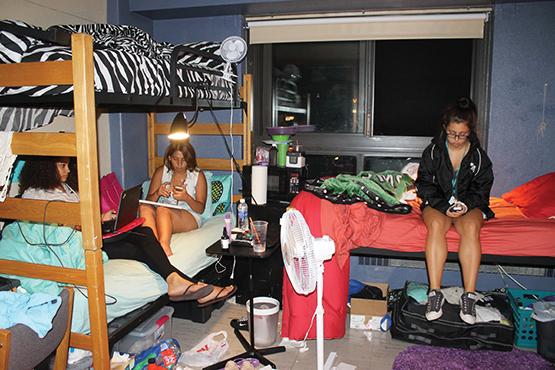 SUNY Buffalo State changed its residence hall room selection process last month in hopes of solving the housing problem the campus has been facing. Students can select their room assignment from the comforts of their own room and do not have to wait in long lines to select their room assignment as previously needed.
The process, now entirely online, gives current Spring 2016 students first priority in selecting their housing arrangements for next semester.
The change from the previous senior priority to freshman priority was enacted for a multitude of reasons.
"The process we have now is one that I created many years ago and have been comfortable with," said Vice President of Student Affairs Hal Payne. "The problem that has emerged over the past several year is the significant increase in the freshmen class and the rate of retention of the students."
The change is necessary to keep freshmen and sophomores on campus, particularly sophomores that are outside the 35-mile radius of Buffalo State where housing would become mandatory.
"As long as we are committed to the idea that the freshmen and sophomores should live on campus, we must find room for them," Payne said. "The group that seems to therefore get priority in the assignment process which affects continuing and returning students is the incoming sophomores."
First year students account for 40 percent of Buffalo States total occupancy, followed closely by sophomores at 35 percent, and then juniors at 16 percent and seniors at nine percent. With the rate of upperclassmen compared to underclassmen, it makes sense that the priority is going to the ones that need it more, Payne said.
The attrition at the college is unique due to the large number of students that commute or transfer to other schools and programs outside of Buffalo State to forward their education.
"If a student is pursuing another program at another school that should not be thought of as a loss," Payne said. "Not all of the attrition is negative."
Instead of sending freshmen to off-campus housing such as the housing at Medaille and Canisius Colleges, Buffalo State is focusing on putting freshmen on campus. In order to keep freshmen on campus, Buffalo State is responding to student feedback that students want to be close to the center of campus. Because of this, many facilities on campus are being renovated.
"We completed a housing master plan last year which provides the framework for the various renovation and programmatic improvements for all the residence halls. We have begun the design process to renovate Bishop Hall back into a 200 bed residence hall," Director of Housing Kris Kaufman said. "We are also continuing with the renovation plans for Tower 2 and Tower 3. Phase 1 has been completed within Tower 3; while Phase 1 will begin this summer within Tower 2 and be completed next summer, 2017."
Bishop Hall is scheduled to open beginning Fall 2018 and the complete building-wide renovations for Tower 2 and Tower 3 are scheduled for completion by Fall 2019 and Fall 2020, respectively.
The new housing process includes a plan to turn Tower 1 into a sophomore only residence hall. From this comes a new program called, "The Sophomore Experience Program," which is designed to attack the problem of sophomores leaving and not returning for junior year. The focus is on making the experience in residence life a good one.
"In order to enhance the likelihood that sophomores will have a good experience and return to Buffalo State as juniors and seniors we have set aside a predetermined number of rooms in STAC specifically for sophomores," Payne said.
One change to the housing process that surprised some students was the increase in the deposit fees for housing. While at first the raise seems out of the blue, there was just causation for the increase.
"The intent is to reduce the number of students who initially request campus housing only to subsequently cancel their room assignment after the fact," Kaufman said. "Historically, there is a significant decrease amongst continuing students who seek campus housing at the onset of the room selection process; only to subsequently cancel their housing request by the time the residence halls open for the fall semester."
United Student Government President Derek Jorden supports Buffalo State's decision to change the housing process.
"Buffalo State College is truly trying to go in a positive direction," Jorden said. "$400 is not chump change, so students that pay this upfront cost will be more conscious of their decision of whether or not they are coming."
Jorden added that students should research more before jumping to conclusions about the school's decisions.
"The school has our best interest at heart, they truly do," Jorden said. "They are not going to do anything to put us in harm's way, so research what they are asking for before you jump to conclusions."
email: [email protected]