Class Visit Program a success as high school seniors share their thoughts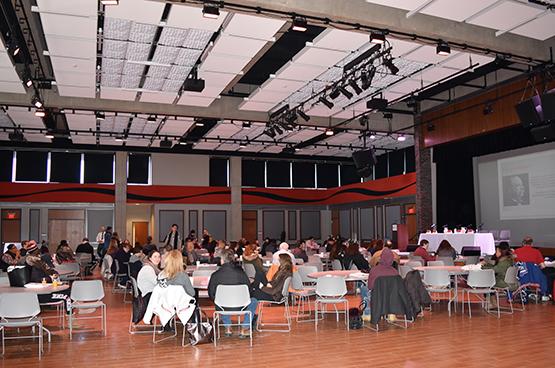 SUNY Buffalo State held its Class Visit Program last President's Week, from Feb. 17 to 19. The event was invitation only for all high school seniors that were accepted to Buffalo State.
The Class Visit program has had tremendous success in past years, where two out of three students who participated decided to enroll at Buffalo State.
In attendance this year were 158 students accompanied by 182 parents and family members over the three-day span.
Admissions Advisor Kenneth Robinson believes the program gives students a great sense of what it's like to attend Buffalo State.
"This program grants students unique exposure to the college," Robinson said. "Through this they can experience a fun, interesting, and small classroom."
Students were welcomed by Director of Admissions, Dr. Carmella Thompson on Wednesday and Friday morning. Afterward, students were escorted to classes, where they were able to get a feel for what it's like to be in a college class.
Students sat in on a variety of classes, including English, history, chemistry, biology, business, psychology, design, communication, fine arts, textiles, and fashion.
An anonymous survey at the end of the program showed that 91 percent of students who participated in the program felt that Buffalo State's teaching faculty were knowledgeable in their subject area.
One student who attended the program was so impressed by an instructor's teaching that they said in the survey that when homework was assigned, they felt like they too had to complete it.
Survey results also told that 35 percent of high school seniors ranked their overall experience as "Good," and 59 percent ranked it as "Excellent." 70 percent of high school seniors said the program had an impact on their decision to attend Buffalo State.
"It only made me want to attend SUNY Buffalo State more than previously," said one high school senior. " There is so much to offer and so many opportunities that I know will help me in the future."
"I was unsure at first, because I had never been to Buffalo," another high school senior said. "But after my experience, I like the thought of going to Buffalo State!"
Amongst those who attended the program, 62 percent now plan on enrolling at Buffalo State for the fall 2016 semester.
"I fell in love with the school after the class visits," added another high school senior.
While students were at classes, parents were able to participate in a panel discussion with representatives from Financial Aid, University College, University Police Department, Residence Life, and the Career Development Center.
Of those parents that were in attendance at the panel discussion, 90 percent said that they found the event helpful and informative of what Buffalo State has to offer.
After classes and the panel discussion, parents and students received a tour of the college, led by student ambassadors.
"The student ambassadors did a tremendous job connecting with the students," Robinson said.
Alumni of the college were also in attendance. WKBW Channel 7's Matt Bove from the class of 2013 addressed students on his experiences at Buffalo State.
Bove spoke on the influences of his professors and how they found a way to make learning fun in subjects that he wasn't so passionate about. He also spoke on the benefits of the Buffalo area, and how many of his friends from Los Angeles decided to stay in Buffalo even after graduating from the college.
Director of Annual Giving at Buffalo State Mario Hicks offered a different perspective and provided some insight into what it's like to be a student athlete. Hicks was an English major and top athlete on the track and field team.
Buffalo State will host this event again for high school seniors considering attending Buffalo State in April.
"The Class Visit Program enjoys widespread support across the campus community," Robinson said. "I look forward to the next one."